Driven: 2022 Genesis GV70 Advanced AWD
crossovers | genesis | reviews | suvs | September 26, 2022
Words and Images by Paul Strauss
Genesis continues to impress us with every one of its vehicles. The 2022 GV70 knocked our socks off with its deft balance of luxury, performance, vehicle dynamics, and technology. Even with the smaller of two engines, the GV70 is smooth, quick, and more than capable of keeping up with European luxury cars.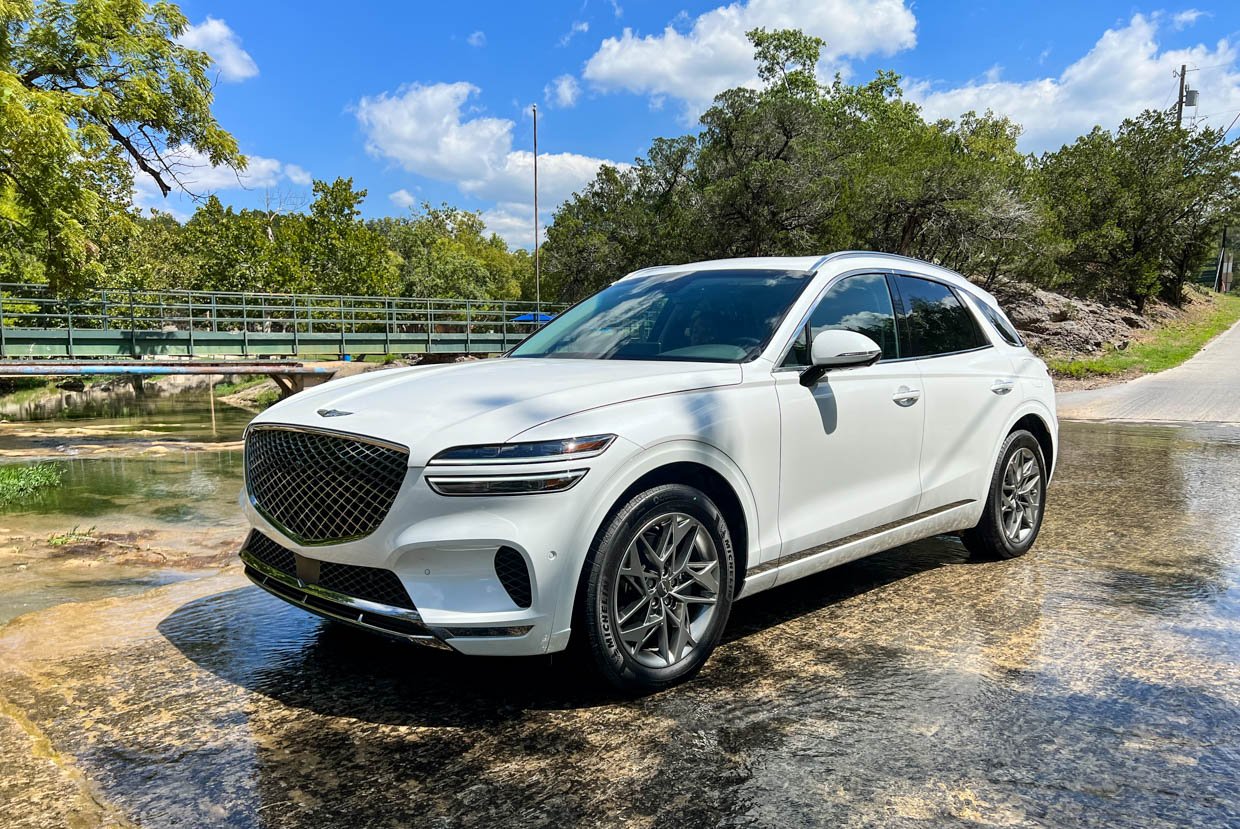 From its dominating mesh grille to its wraparound twin-blade headlamps and uniquely hood that wraps over its front end, the Genesis GV70 exudes substance and sophistication with a design that stands out from the crowded luxury crossover field. Underneath that hood, you'll find either a 2.5-liter turbocharged 4-cylinder engine or a 3.5-liter turbo-6. Our tester was equipped with the less powerful engine, which still outputs an impressive 300 horsepower and 311 lb-ft. of torque. The more powerful engine makes 375 horsepower and 391 lb-ft. of torque. Both engines send power to both axles via a quick-shifting 8-speed automatic transmission with paddle shifters.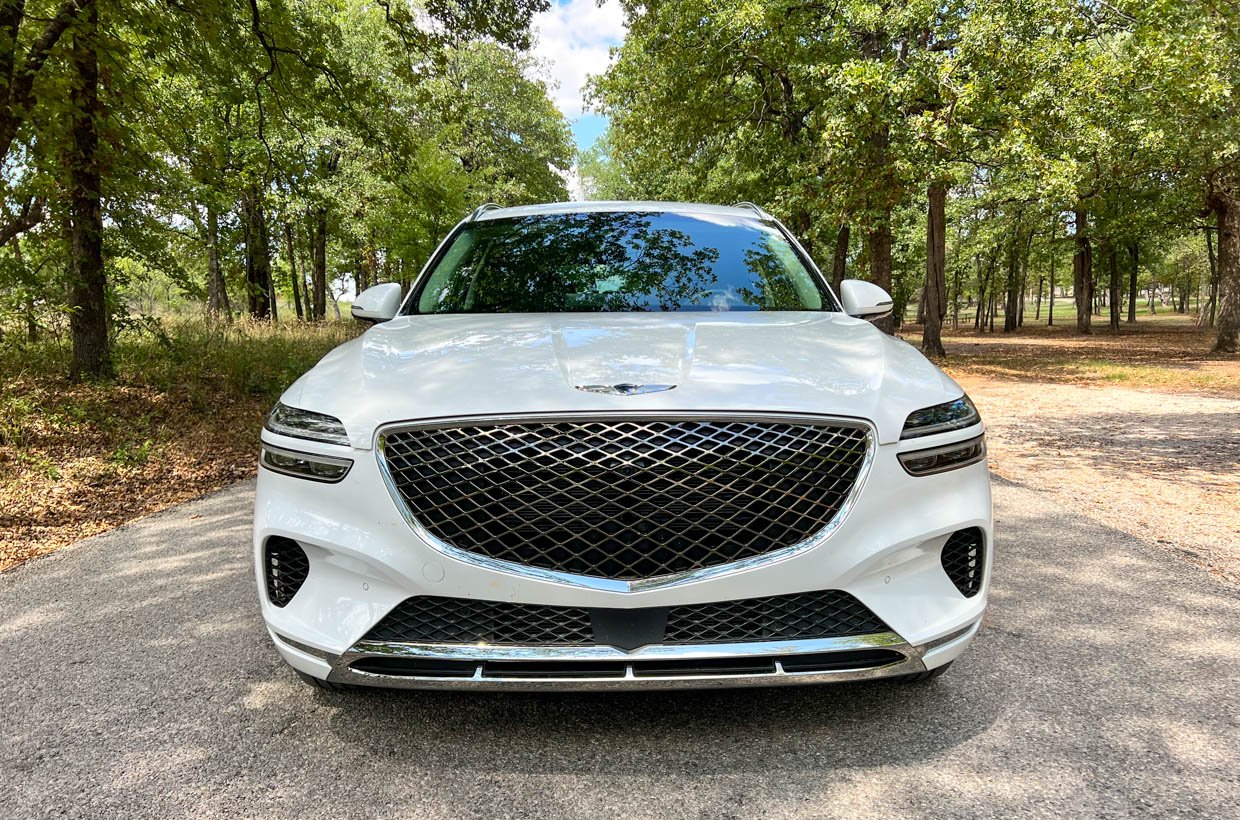 For a performance-oriented luxury vehicle, it's quiet and smooth too. It also handles great. Few SUVs and crossovers feel as connected to the road as the GV70. It corners like a sport sedan with minimal body roll and quick, confident steering. Our tester came with 19" alloy wheels, wrapped in Michelin Primacy all-season tires, providing good grip on a variety of surfaces.
With a 0-to-60 mph time shy of six seconds, the GV70 2.5 T is quick off the line. We noticed just the slightest bit of turbo lag under hard acceleration, though it's still satisfyingly fast. We were also duly impressed with its fuel economy. Throughout our week with the GV70, we managed an average of 27 mpg. And while its exhaust note is relatively tame, you can add to the engagement in the cabin using the adjustable active sound system, which amplifies and enhances engine sounds through the GV70s speakers.
Inside, the GV70 is upscale without being pretentious or overworked. Every line is smooth and rounded, with stitched leatherette surfaces and real metal trim. An ultra-wide touchscreen display dominates the dashboard's center and is placed in an upright position to keep your eyes on the road. The center console is sleek and elegant, with a dial-based shift knob and a dial control for the multimedia system. While it's a handsome look, we found ourselves reaching for the shift control instead of the media dial on more than one occasion since they're so similar. There's also a flip-top compartment for storing your phone with an integrated wireless charging pad.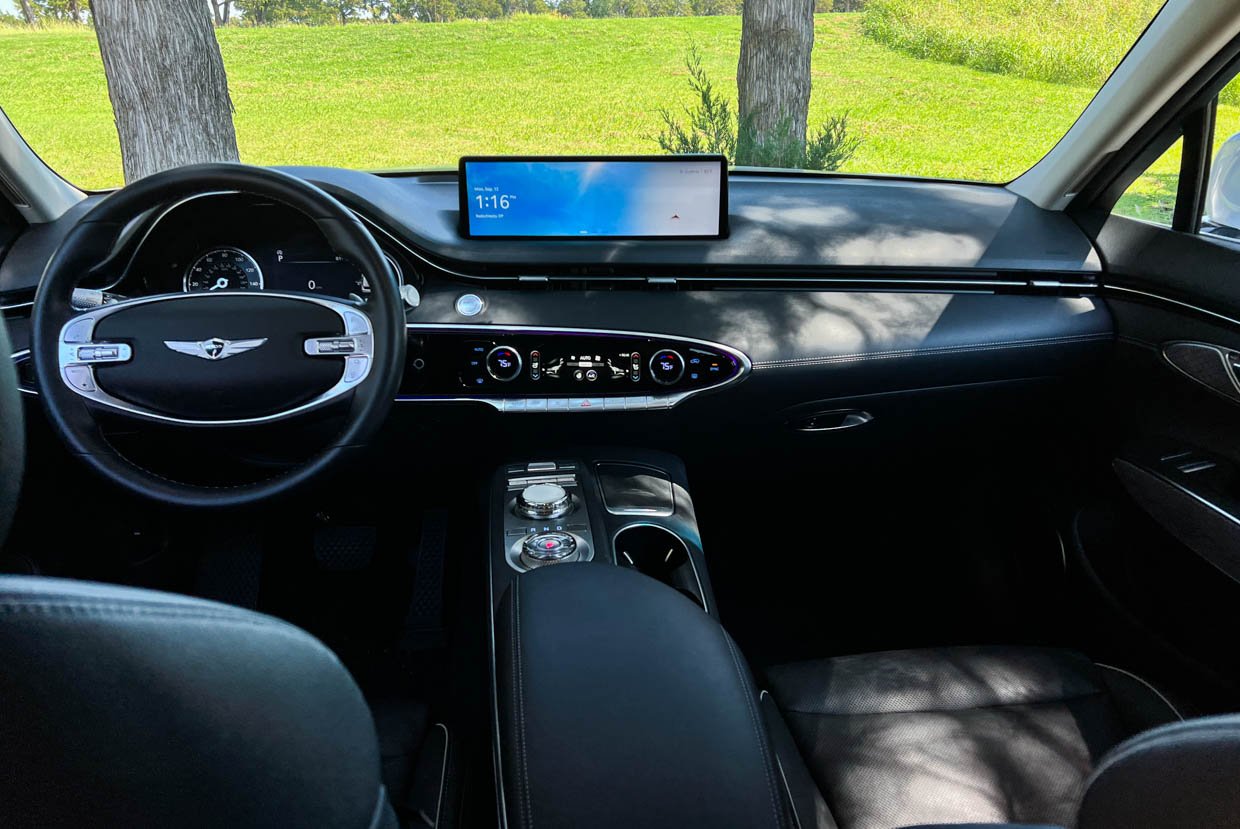 One of the cooler design touches in the GV70 is the unique zig-zag trim found on the center console and doors. We couldn't figure out what it's made from, but its unique pattern is decidedly less stodgy than the typical wood trim equated with luxury vehicles. We also like the larger panoramic sunroof, which brings in lots of light and doesn't seem to negatively impact chassis stiffness.
Genesis is known for packing its vehicles with technology, and there's plenty of that to enjoy here. The infotainment system is fast and intuitive and offers both Apple CarPlay and Android Auto connectivity - though those are still of the wired variety. Our car came equipped with Highway Drive Assist, which does a stellar job keeping the GV70 centered in the lane while maintaining a safe speed and interval via an adaptive cruise control system. There are tons of safety features included, like automatic emergency braking with pedestrian detection, lane-departure warning with lane-keeping assist, blind spot monitoring, and rear cross-traffic collision avoidance. Shown on screen here is the surround-view monitor, which actually shows a virtual model of the GV70, which helps provide context when parking in a tight spot.
The front seats are wrapped in real leather and offer heat and ventilation. They're comfortable and supportive and offer plenty of adjustability. The armrest that sits atop the center storage bin is supremely cushy.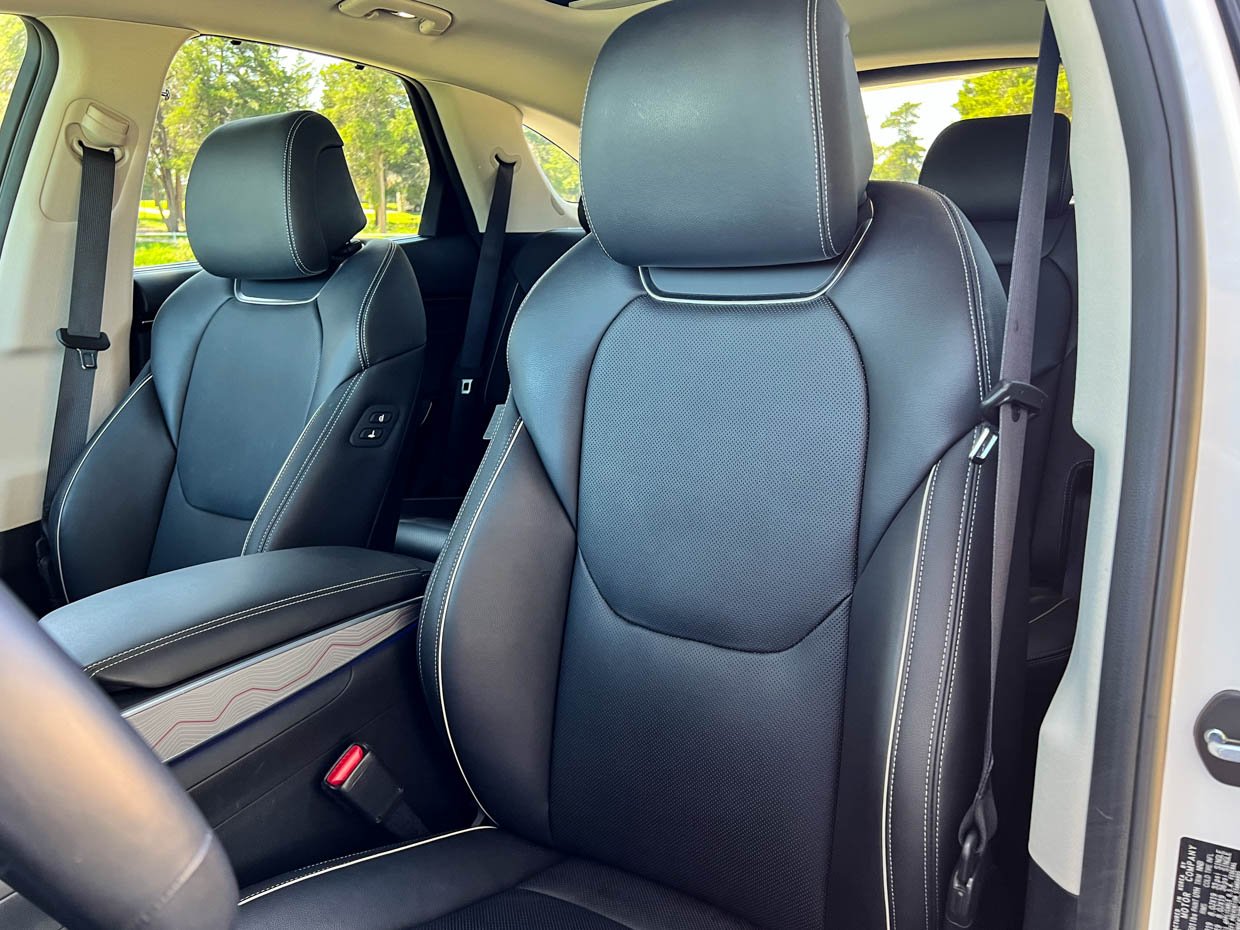 The back row features similarly comfortable seats and a middle seat that converts to an armrest/cupholder combo. There are rear vents, a single rear USB charging port, and a 110-volt AC outlet. Headroom is good in the second row, but the legroom is pretty cramped. The knee cutouts on the back of the front seats help a bit, but it's still tight back there for taller folks. Suffice it to say, the back row is best saved for kids or smaller adults.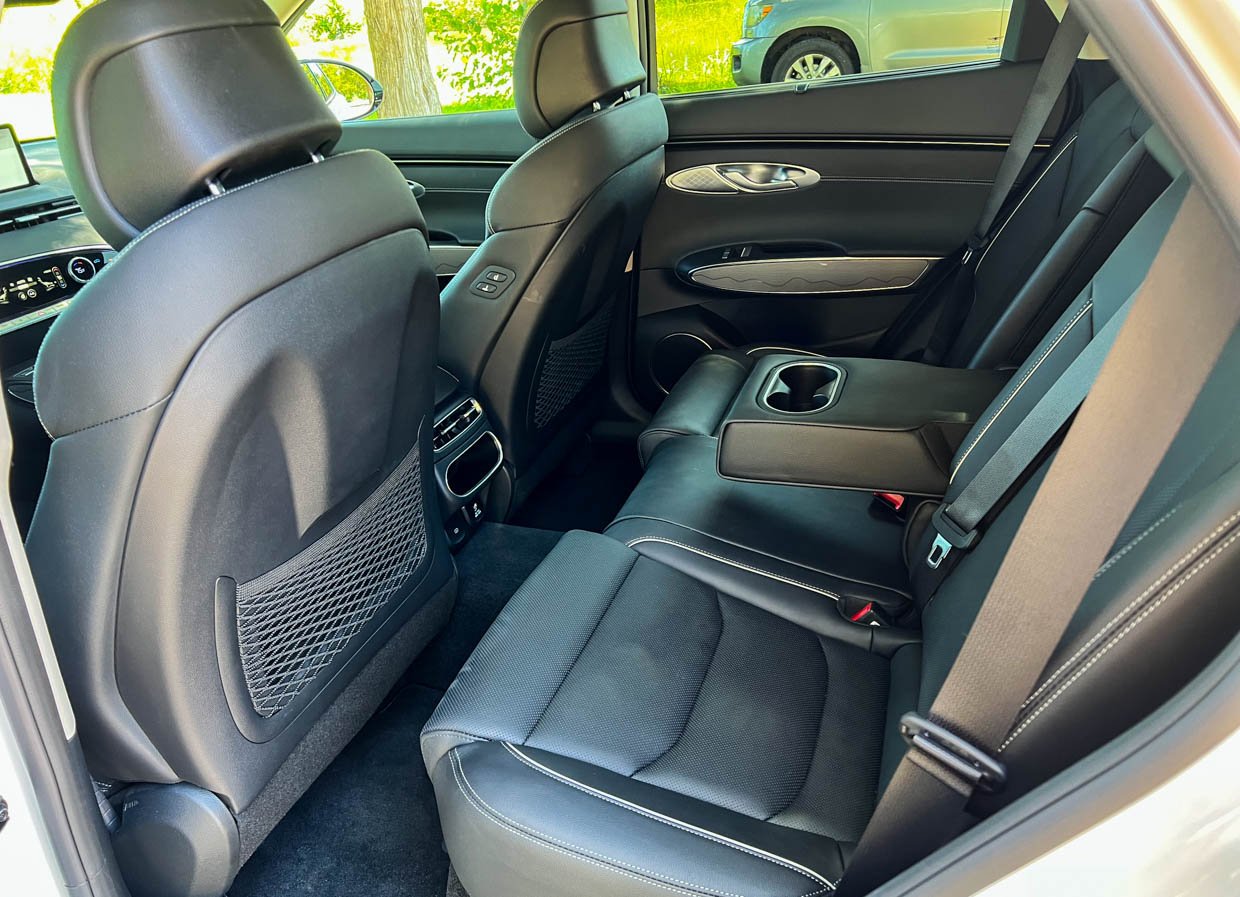 Cargo space behind the back seat is plentiful for a vehicle of this size. There are 28.9 cubic feet with the seats in use and 56.9 cubic feet with the seats folded. We managed to fit a large home appliance and a whole week's worth of groceries back there without folding the seats, and there was room to spare. We truly appreciated the hands-free power liftgate, which automatically opens when you approach the back of the car with the key fob in your pocket.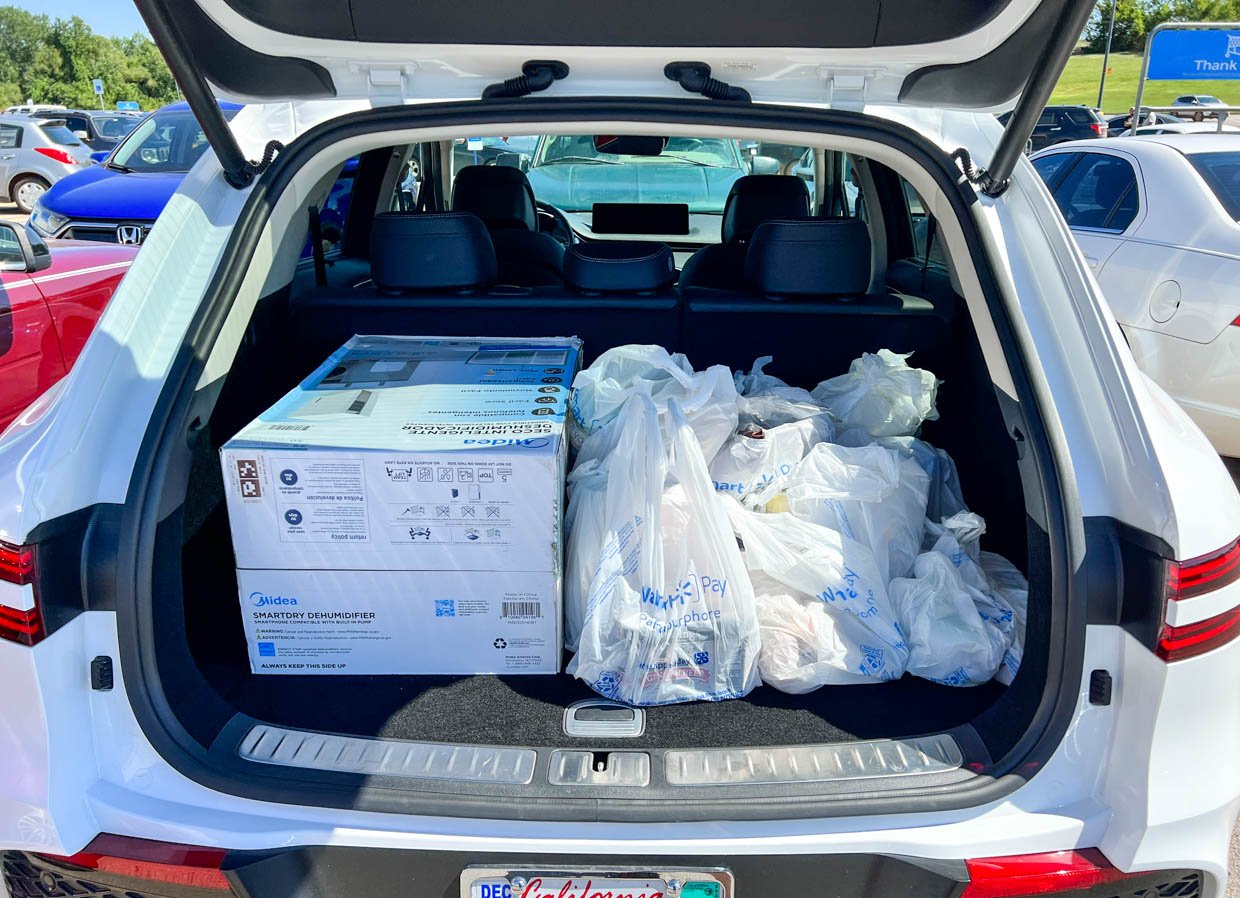 We've driven most of the vehicles in the current Genesis line, and every one of them is excellent. The GV70 is no exception, combining a sporty and engaging ride with a luxurious and comfortable cabin and an eye-catching and exquisite exterior design. If second-row space is important to you, you might consider the bigger GV80, but the GV70 is definitely the sportier model. The 2.5-liter turbo engine is plenty fast, and most drivers won't miss the bigger, more expensive, and less fuel-efficient 3.5-liter V6. With prices starting at $42,900 for the base 2.5T AWD model and a well-equipped Advanced model starting at $51,550, it's also a steal compared to its European competitors like the Porsche Macan.