Driven: 2021 Lexus LC 500 Convertible
convertibles | lexus | reviews
We already know that the Lexus LC 500 is one sexy and magnificent sports car. Now find out how the new drop-top variant stacks up to the coupe, and what other changes come along with the convertible roof. Read on to learn more about this luxurious performance car.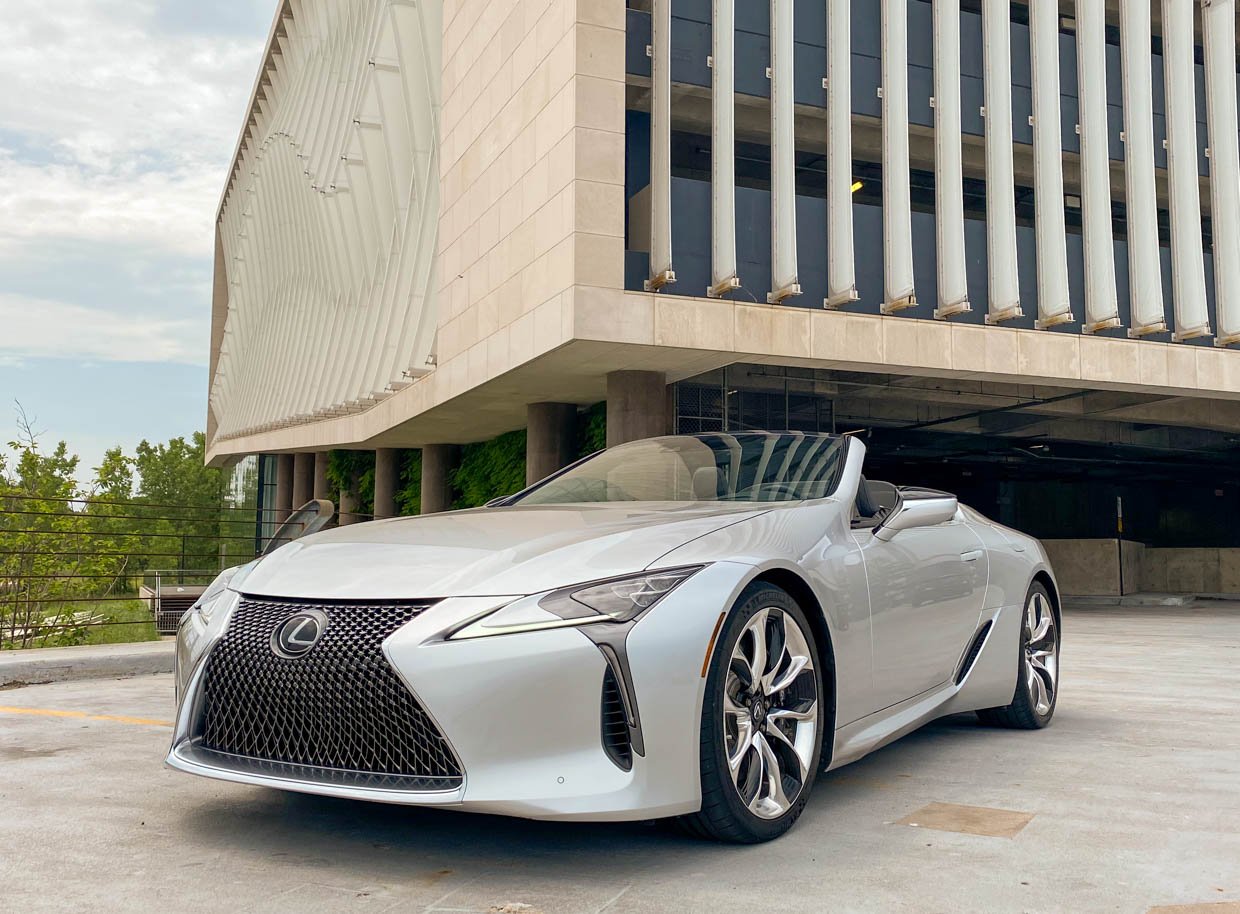 The LC 500 Convertible drew attention and stares everywhere we took it, with gawkers coming out to snap pictures of the exotic Japanese sports car. Like most soft-top convertibles, we think it looks best with the roof open, and we were fortunate to have a sunny and warm week to enjoy all that an open-top has to offer.
Like the coupe, there's a mighty V8 engine beneath the hood of the convertible. The naturally-aspirated 5.0-liter engine produces an ample 471 horsepower and 398 lb-ft. of torque. Working in concert with a quick-shifting 10-speed automatic transmission, the LC 500 zooms from a standstill to 60 mph in just 4.6 seconds, towards a top track speed of 168 mph. Acceleration was immediate and rocket-like as we pushed the go pedal.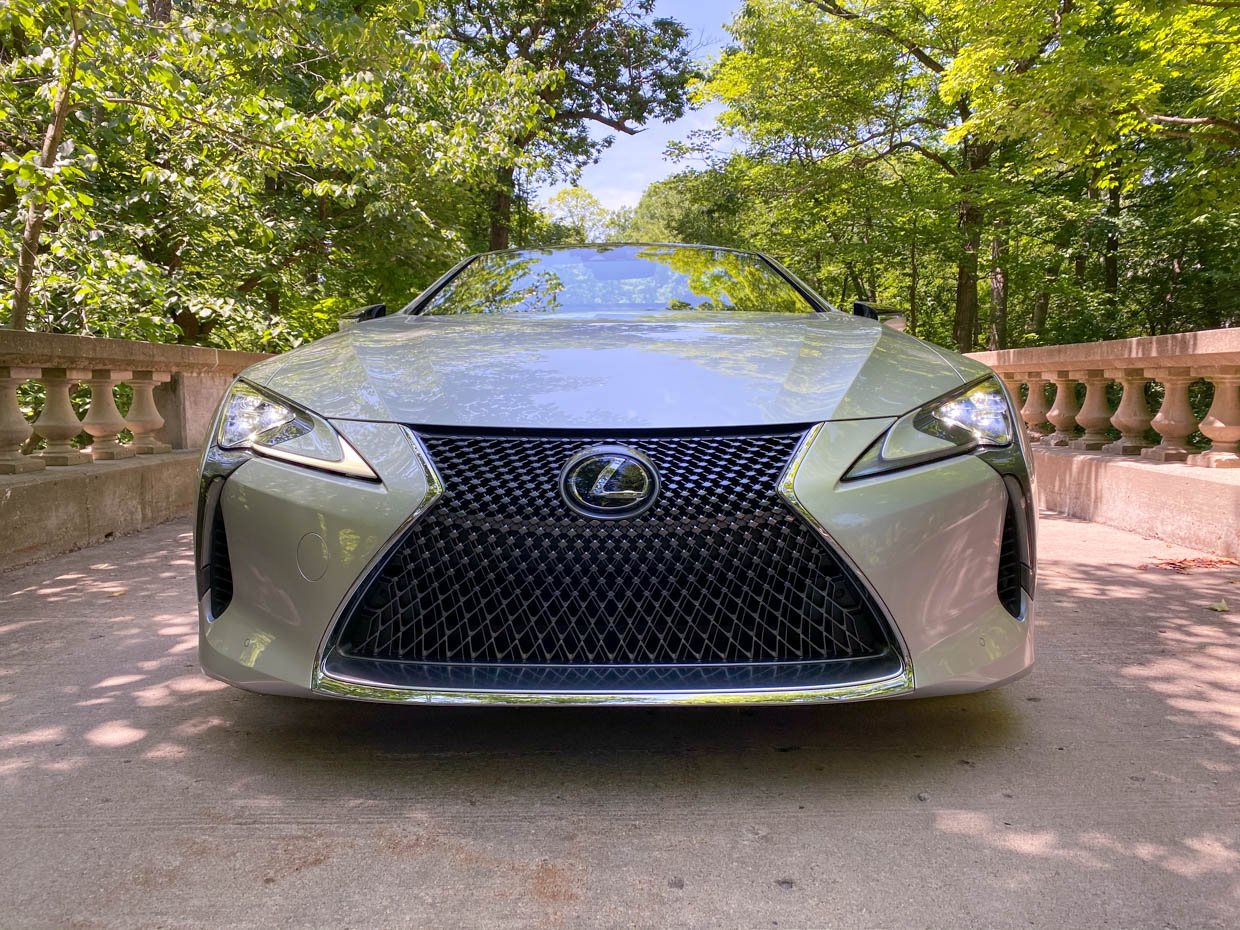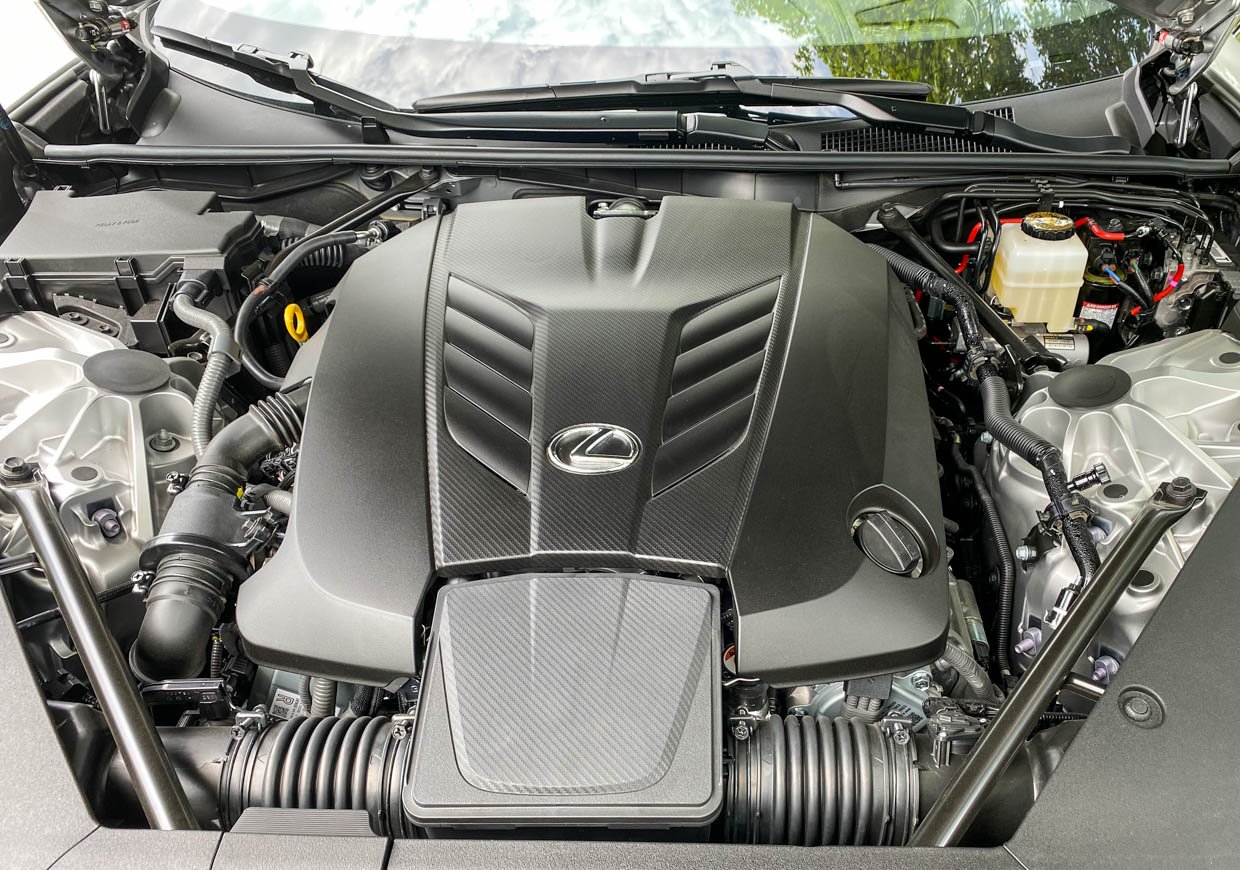 The dual-port active exhaust system is simply fantastic on every LC 500 we've driven, offering up a delightfully satisfying soundtrack of rich and throaty sounds that are almost racecar-like in their depth and dimension. Of course in a convertible, the volume level of these auditory delights makes them even more enveloping than in the coupe.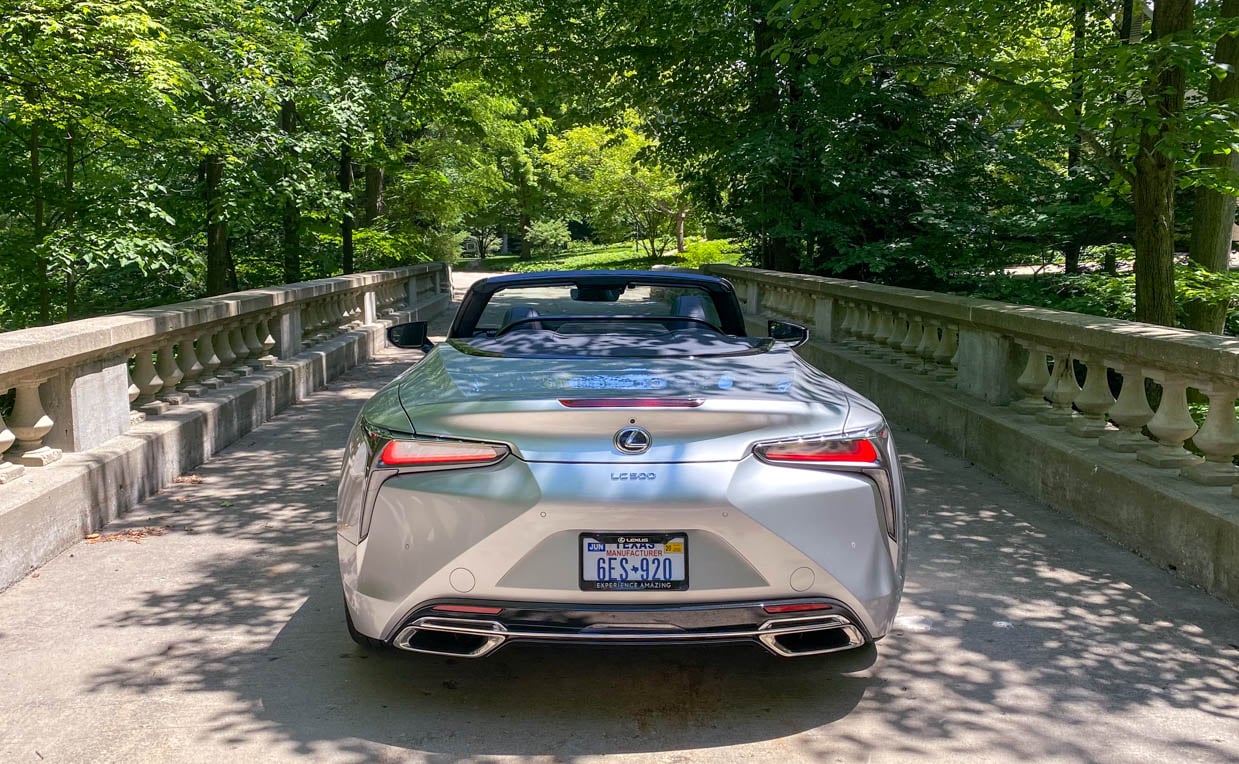 One big question that comes up when creating a convertible version of a sports car is just how much rigidity did it lose by chopping off the roof? Well in the case of the LC 500, Lexus intended to offer a convertible version from day one, so the underlying chassis design is exceptionally stiff even without the solid roof. Of course, they added some additional bracing for the drop-top to help ensure the structure stays as stiff as possible. That all said, Lexus decided the convertible would be more of a grand tourer than the coupe, so its suspension is tuned to be just a little softer and comfort-oriented, without sacrificing the crisp handling that we experienced in the coupe. And while the convertible weighs 176 lb. more than the coupe, it really didn't feel any less nimble to us.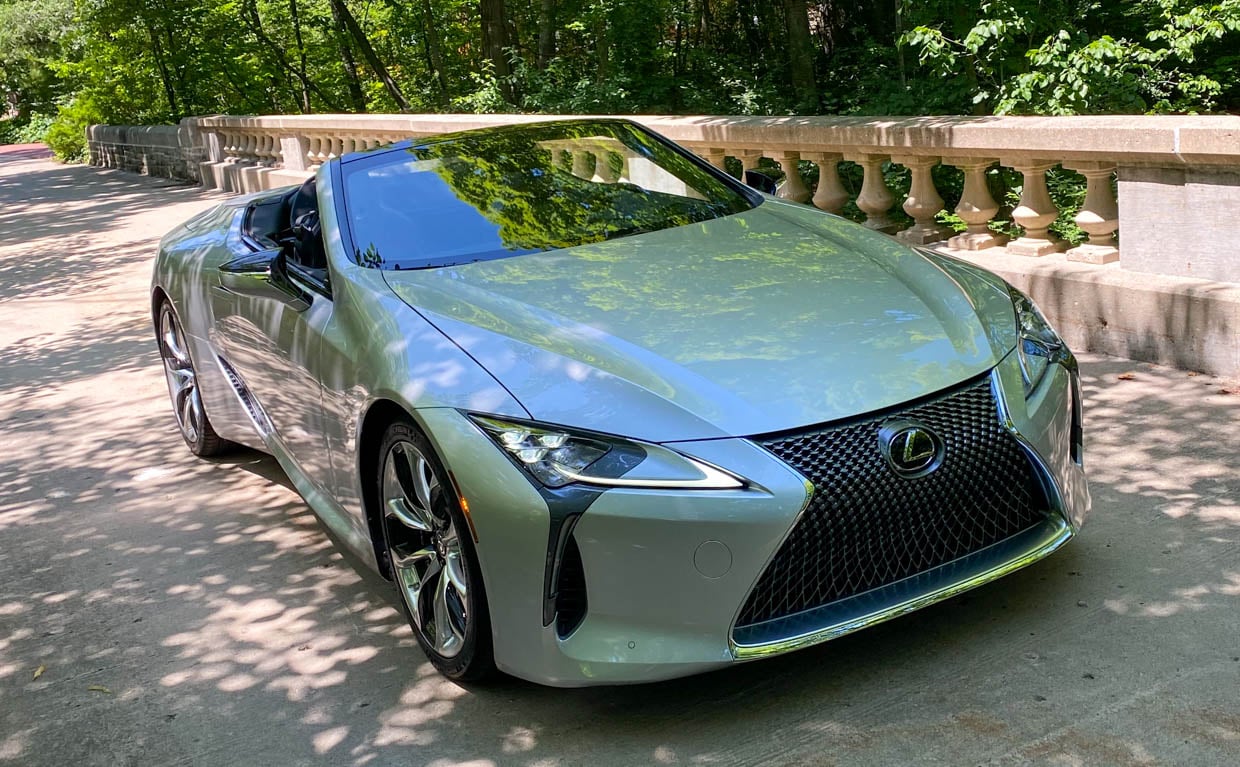 Our test car was equipped with the limited-slip differential, along with gorgeous 21" forged alloy wheels and Michelin Pilot Super Sport Tires for exceptional cornering. Working in concert with MacPherson front struts and a multi-link rear suspension, the car's adaptive dampers automatically adjust to driving conditions as well as the driving mode you select. In Sport+ mode, the ride is definitely firmer, while Normal and Sport modes are better for casual Sunday drives.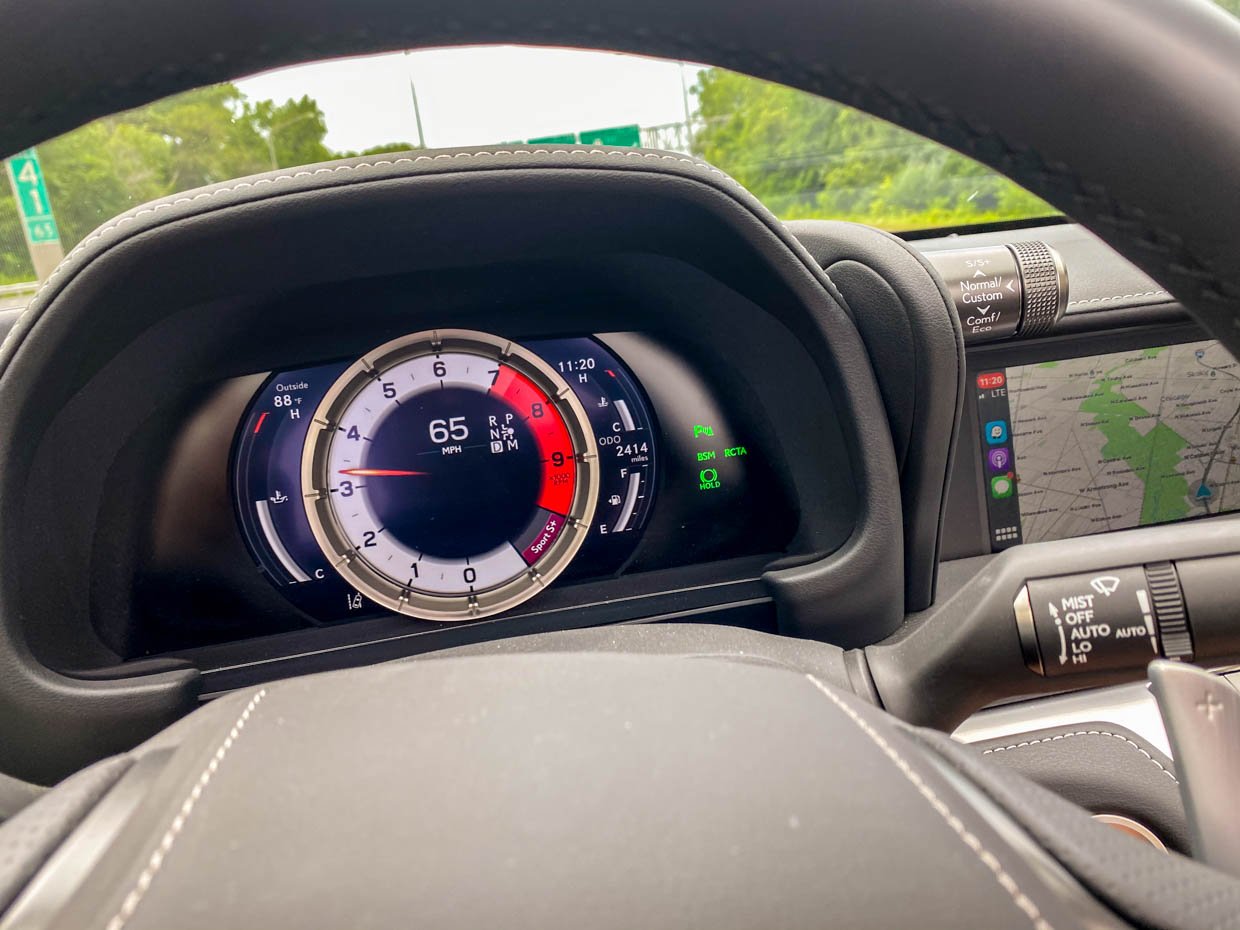 We were really impressed with the active noise control and wind management inside of the cabin when the roof is down. With the windows up and the rear wind deflector in place, we were able to hold a conversation at normal speaking volumes, even when driving at highway speeds, and there's no uncomfortable buffetting either. Speaking of sound, the 13-speaker Mark Levinson Reference audio system is spectacular, cranking out clean, accurate, and powerful tunes, and automatically adapting its acoustics based on the roof being opened or closed.
The motorized convertible roof opens and closes with the push of a button, taking just 15 seconds to lower and 16 seconds to close. And if you do need to put the top up quickly when it starts to drizzle, it works at speeds up to 31 mph. Just remember to put up the small back seat windows, which are raised and lowered via a second button. One downside to driving with the roof up is the very limited rear visibility through the tiny rear window. Fortunately, there's a backup camera and a park assist system to help ensure you don't bump into anything when reversing out of parking spaces.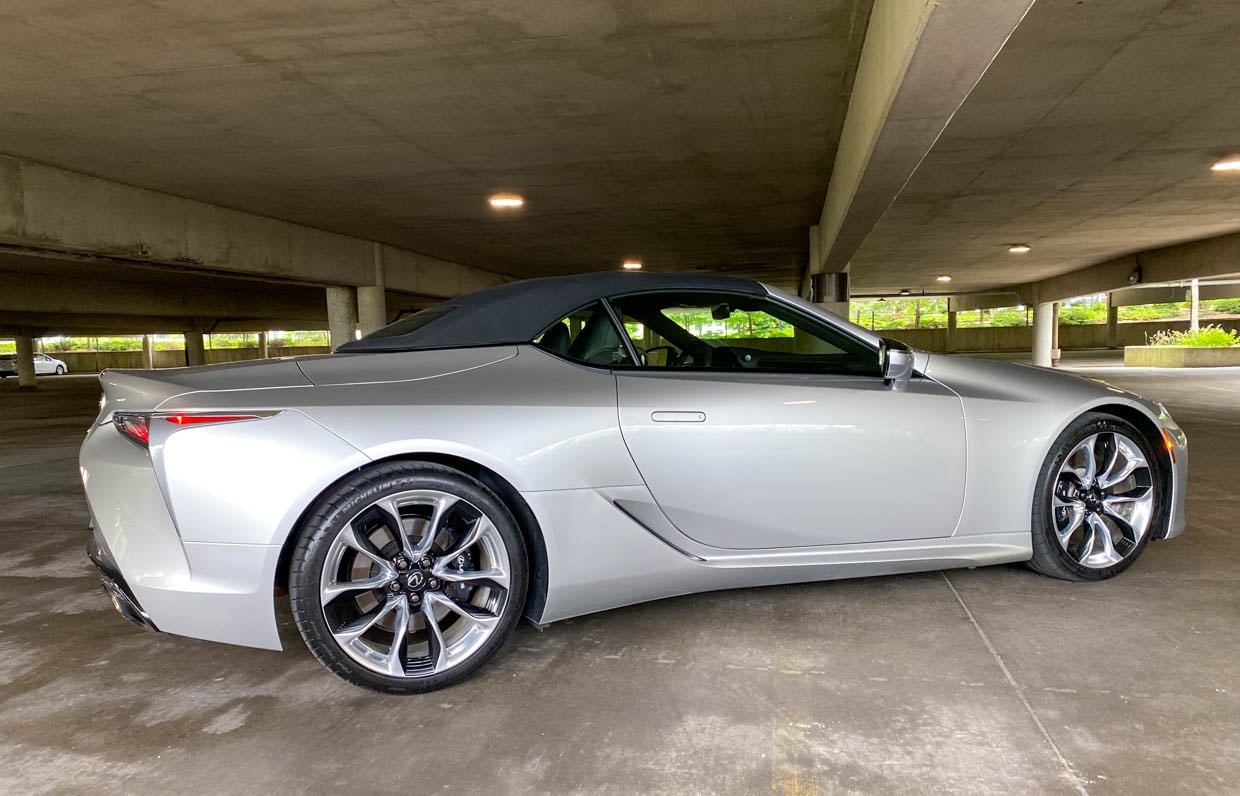 Inside, the convertible is as exquisite as the coupe. From the semi-aniline leather seats to the heated head rests, it's a truly luxurious space for front seat passengers. Both the driver and front passenger seat are extremely comfortable and supportive, and offer both heat and ventilation - the latter being extremely nice when sitting down in a convertible with dark leather seats on a hot summer day. Like other 2+2 cars though, the back seat is best left for carrying bags or golf clubs, as legroom is basically non-existent.
Beautiful details abound, like the sculpted door panels, which feature an undulating checkerboard pattern that follows the contours of the door. This sculptural aesthetic carries across to the inside door handles, the center grab bar, and passenger side of the dashboard. Other quality touches include LED ambient lighting, an elegant analog clock, anodized aluminum pedals, and stainless steel scuff plates in the door sills.
Between its supermodel looks, luxurious appointments, sports car power and handling, and a simply sublime exhaust note, the LC 500 has been one of our favorite cars since it first broke cover. Now that it's available in a convertible, we' love it even more. Lexus did a great job preserving the things that make the coupe so great, and tweaked them just enough to make the convertible's ride just a little more comfortable, turning it into more of an everyday cruiser instead of a track day bruiser. With a base price of $101,000, and our loaded tester topping out at $111,325, the Lexus LC 500 Convertible definitely requires some deep pockets. But for those who can afford one of these special cars, a truly wonderful experience awaits.