Driven: 2021 Lexus ES 250 AWD F Sport
2021 | awd | car reviews | lexus | lexus es | March 14, 2021
When it comes to smooth and comfortable sedans, the Lexus ES is among the best you can buy. When the weather gets rough, we'd prefer an all-wheel-drive model. We spent a week behind the wheel of the ES 250 AWD F Sport, which can send power to all four wheels, instilling confidence and control in inclement conditions.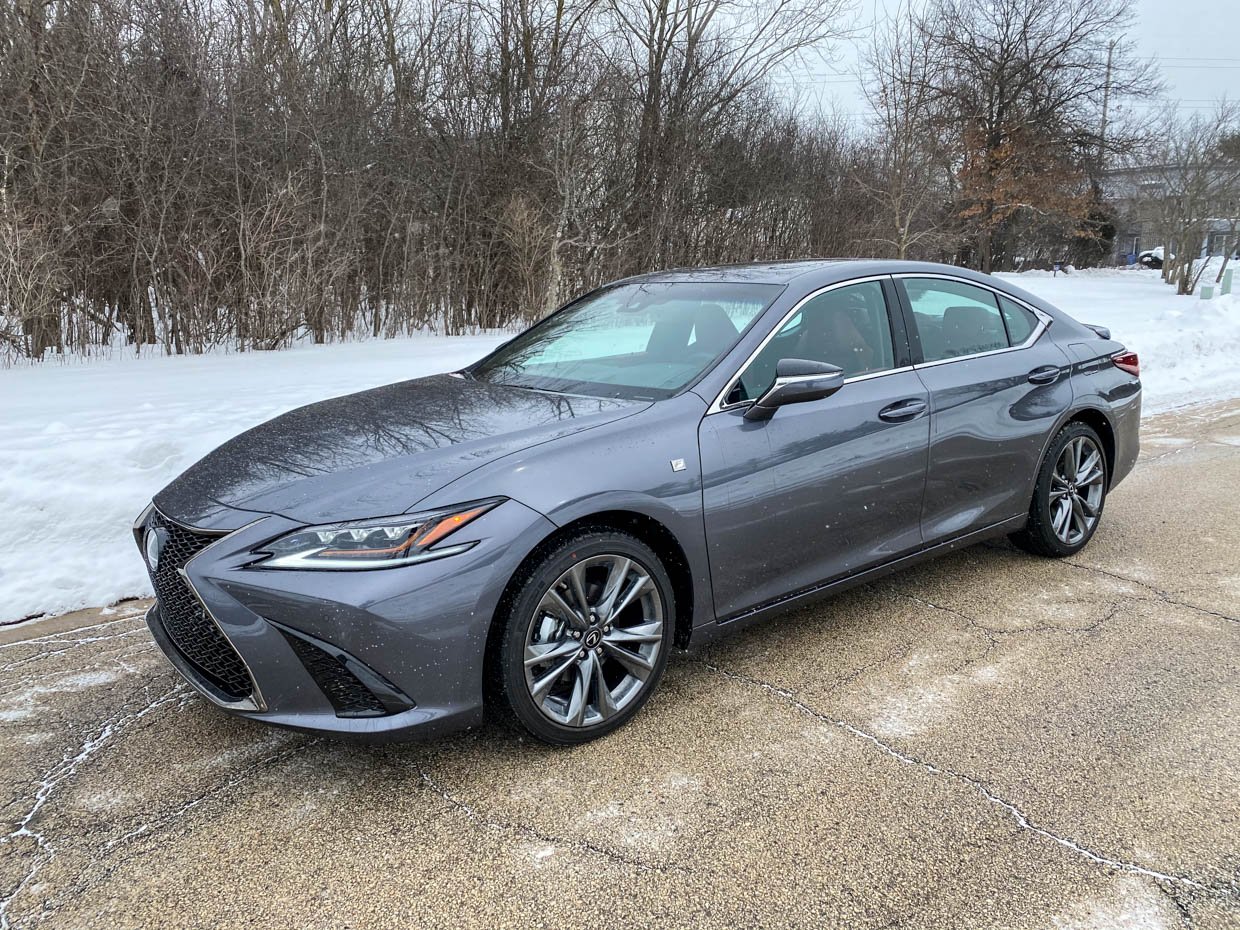 The ES 250 is powered by a naturally-aspirated 2.5-liter 4-cylinder engine that delivers 203 horsepower. It's not as zoomy as the ES 350's 3.5-liter V6, but it is fuel-efficient, hitting 25 mpg in the city and 34 mpg on the highway. Combined with an 8-speed automatic transmission, we found it shifted smoothly and predictably. Paddle shifters mean you can select your own gears, though we prefer to let the car's computer to do that work. Three drive modes are available: Eco, Normal, and Sport, with the latter being our preference for its more aggressive throttle mapping. We'd still prefer a more potent engine as an option in the AWD model.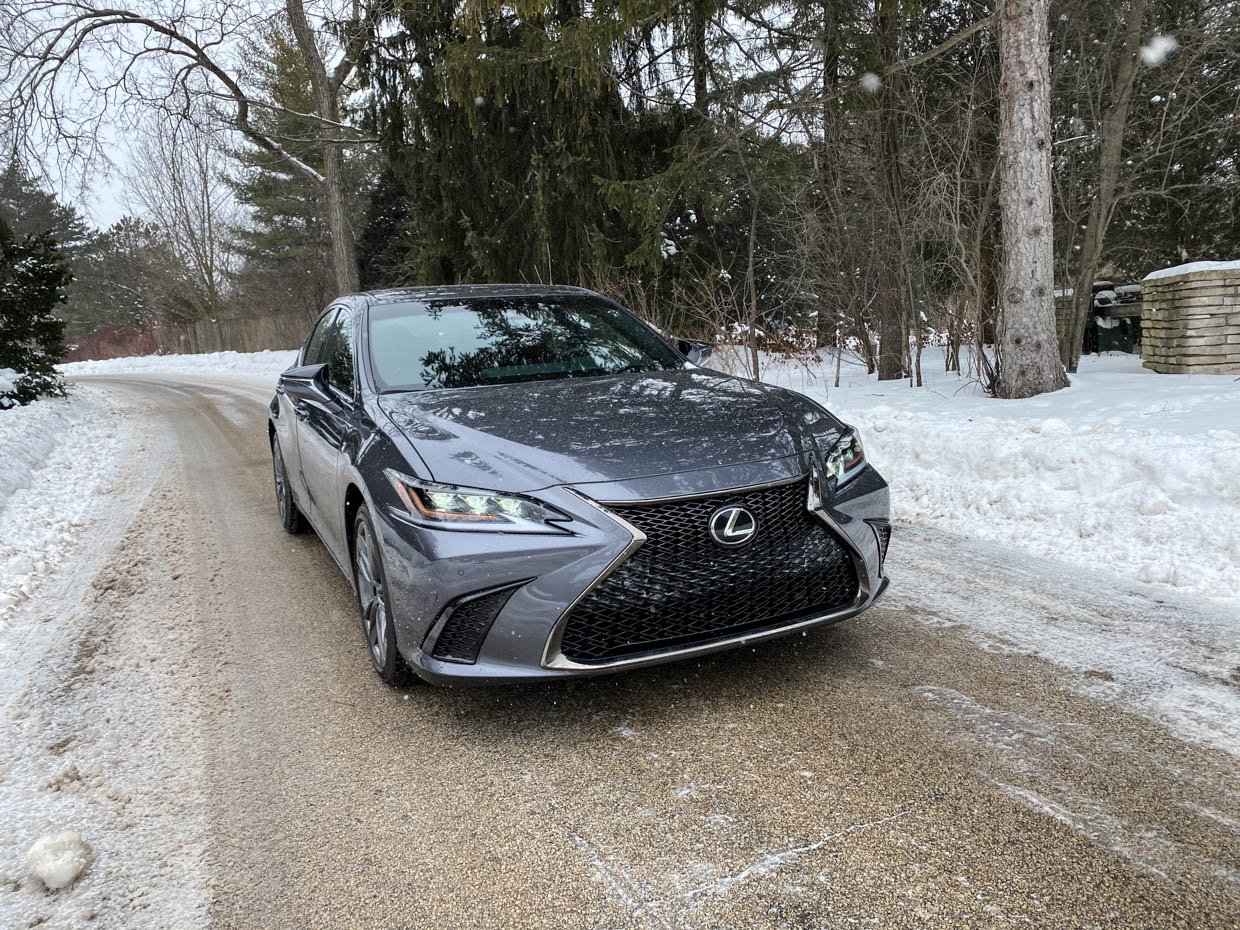 The F Sport trim level features bolder and more sporty styling than the base or swanky ES Luxury models and includes 19" alloy rims, a special F Sport mesh grille, and a rear trunk spoiler. The car's multilink suspension has also been tuned for a sportier ride, and thanks to performance dampers and Lexus' latest chassis architecture, the overall ride character is one that is predictable and connected to the road. During our test drive, we encountered lots of snow and icy road conditions, and the AWD system did a great job maintaining traction and control, thanks to its ability to send up to 50% of available torque to the rear wheels.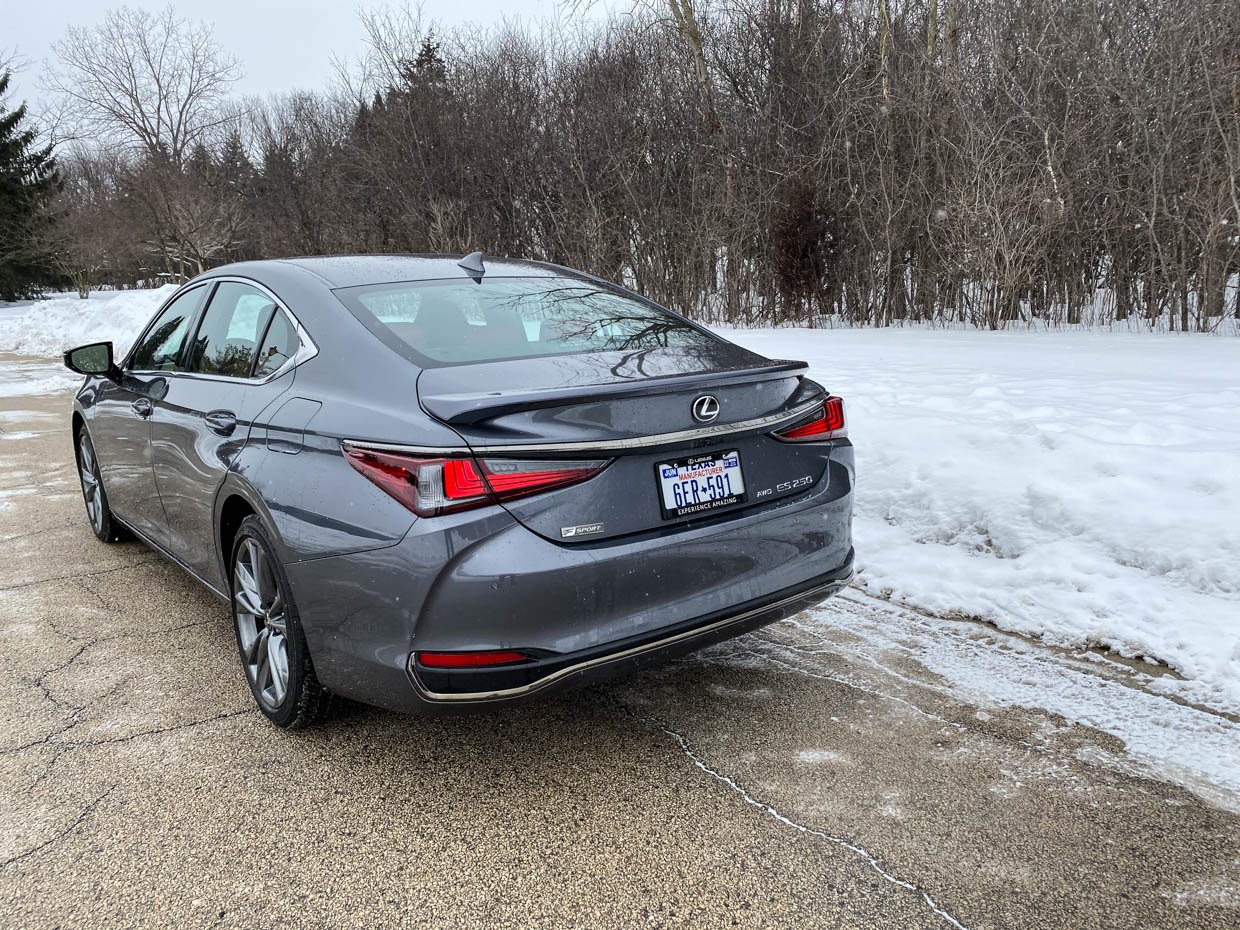 We love the interior of the ES F Sport, with its form-hugging performance seats, which look especially great in this flashy red and black color combo. Like other Lexus models, the interior is quiet and free of unwanted vibrations or harshness. The seats are comfortable, and there's ample head and legroom for rear-seat passengers too.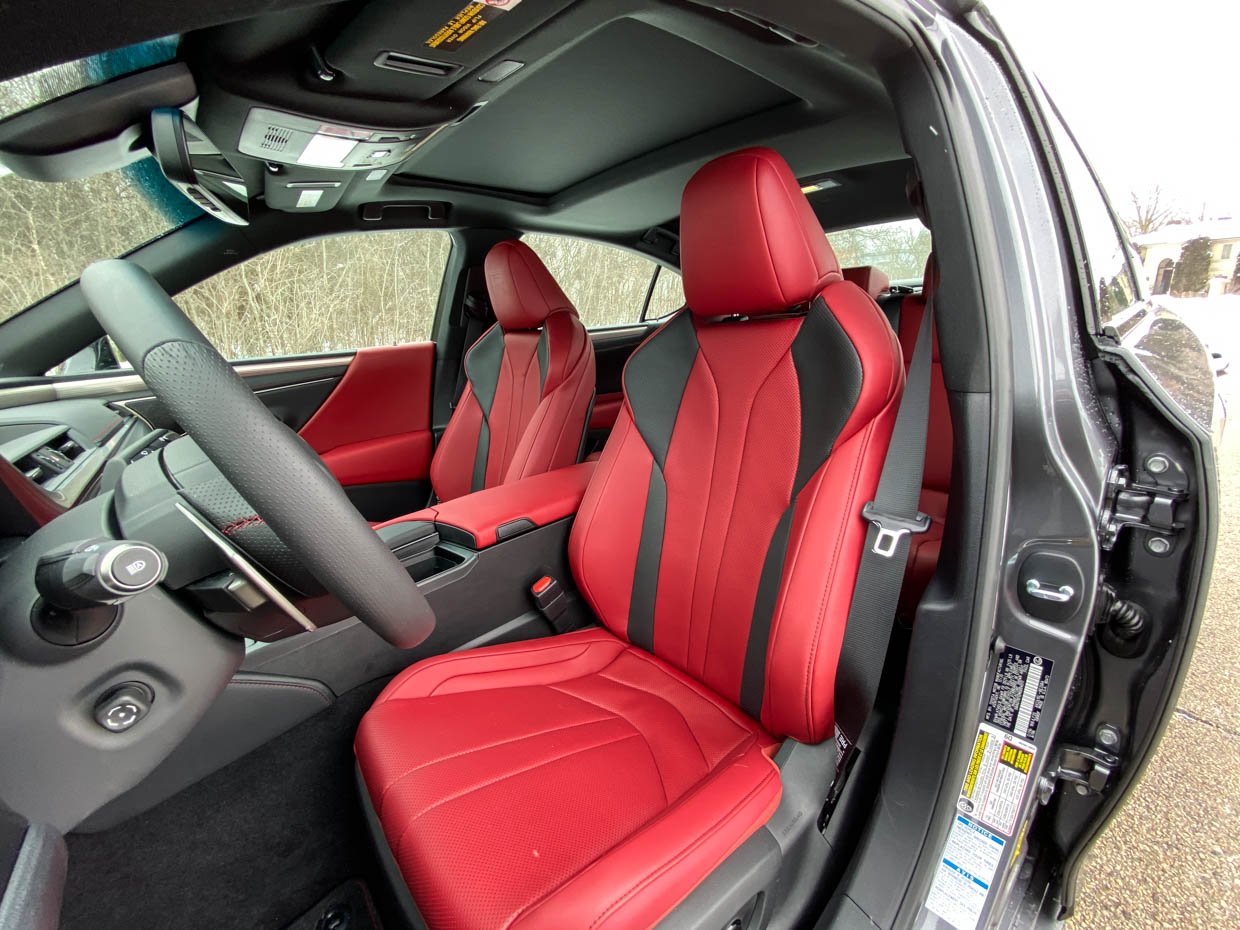 Other F Sport upgrades include red stitching on the steering wheel, dashboard, and gear shift boot, along with aluminum pedals. There's also a slick motorized speedometer/tachometer that can change positions when accessing menus, and our car was upgraded with a big 12.3" widescreen multimedia display for accessing navigation, music, Apple CarPlay Android Auto, and Amazon Alexa. We'd prefer to use a touchscreen input, though, rather than a trackpad, which can be a bit clunky. There's also a 10.2" heads-up display that projects speed and navigation information right onto the windshield.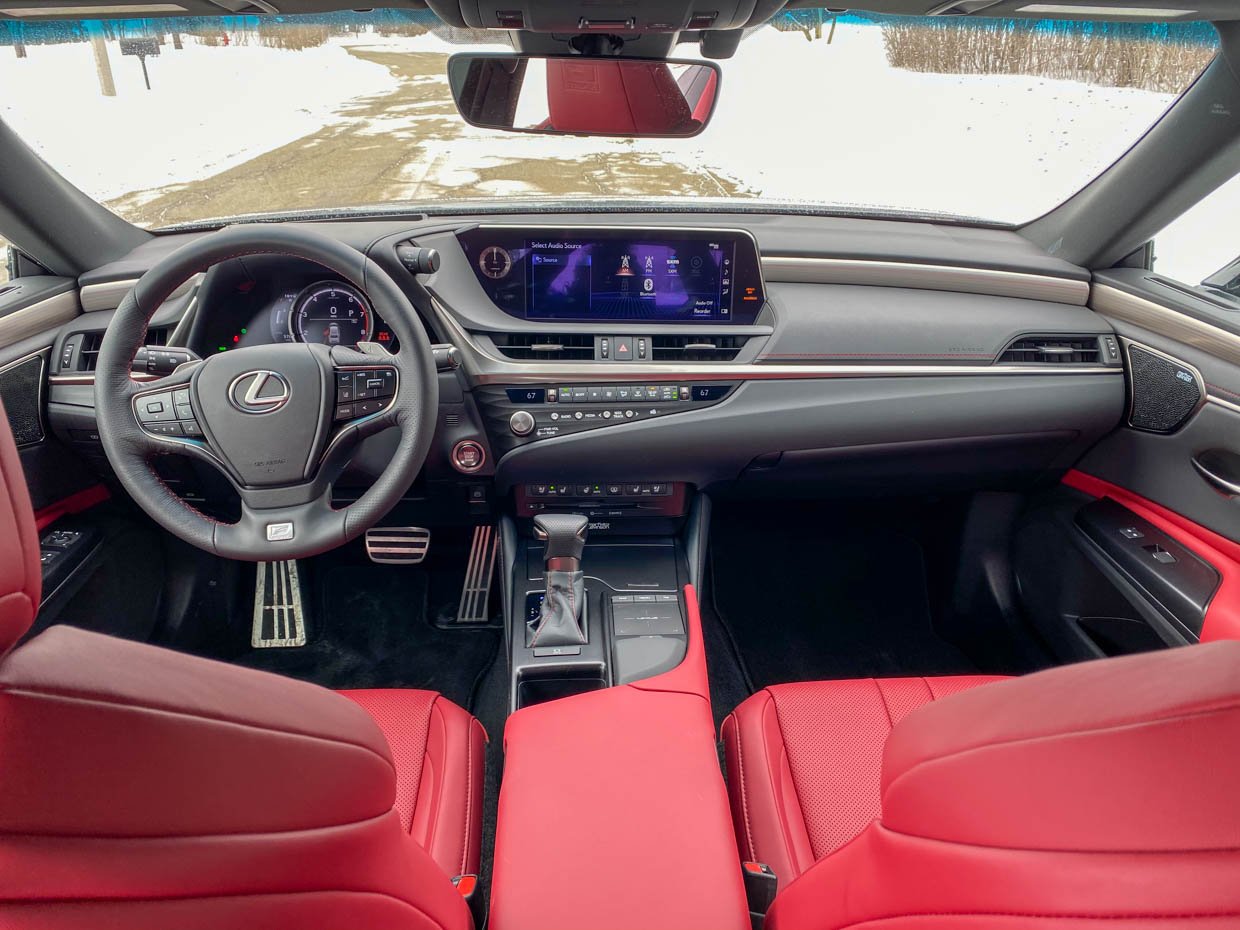 Our car was equipped with the 1800-watt, 17-speaker Mark Levinson audio system, which sounds simply fantastic, with amazing dynamic range, and crisp, clean sound even at high volume levels. The textured metal speaker grills look pretty sweet too.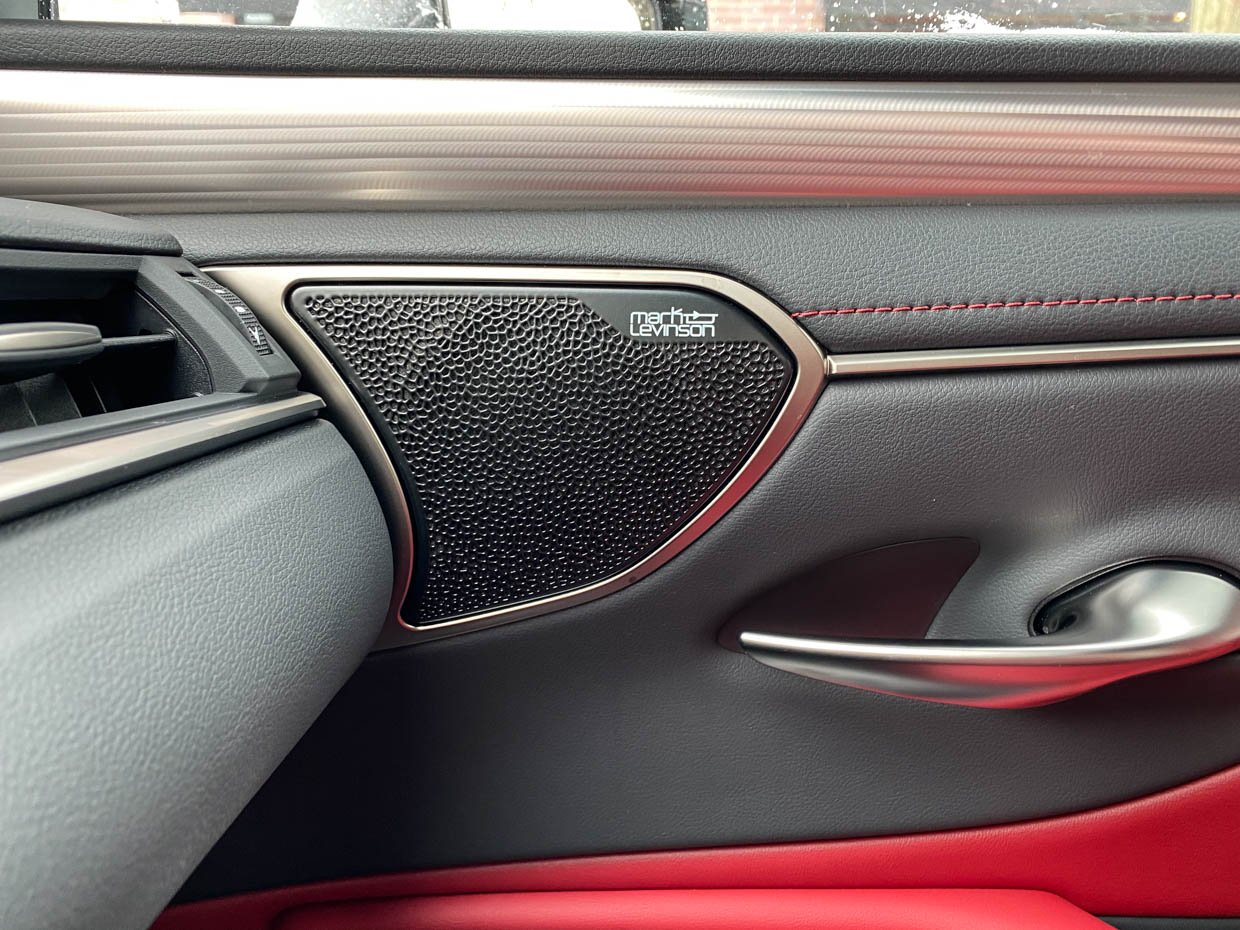 If you're looking for a luxurious car with a sporty look that can handle bad weather with aplomb, the Lexus ES 250 AWD F-Sport definitely fills the bill. It offers a smooth ride, a quiet environment, bold styling, and solid fuel economy for its size. The sport suspension makes for an engaging drive, and the all-wheel-drive system is great for anyone living in rainy or snowy climates.