Driven: 2021 Dodge Charger SRT Hellcat Redeye Widebody
cars | dodge | dodge charger | hellcat | reviews | srt | September 2, 2021
Words and Images by Paul Strauss
We spent a few days getting to know Dodge's 797 horsepower, Hellcat-powered sedan, and all we can say is "wow." This monster of a car isn't just insanely fast off the line, it's also incredibly comfortable. The widebody kit means wider tires and more grip for faster acceleration, and it just looks badass too.
Every Dodge Charger has a certain kind of substance that comes with its muscular heritage, but the Widebody variants take things to another level with massive wheel arches, aggressive grille, hood heat extractors, and a functional hood scoop to help its supercharger gulp down the enormous quantities of air it demands.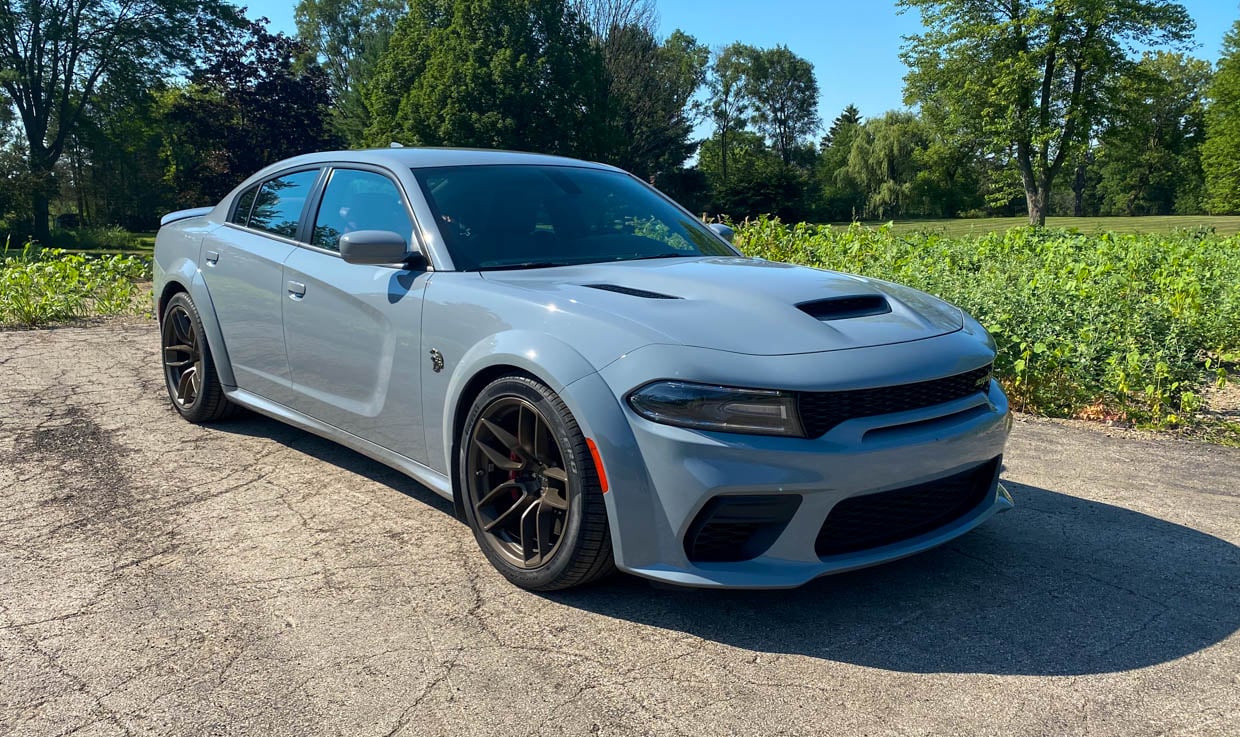 Thanks to those wide fender flares, this Hellcat rides on big honking 305/35ZR20 performance tires, which provide ample amounts of contact patch with the ground below. Dodge upgraded this particular car with 20" x 11" Brass Monkey rims, which have a beautiful brownish-black hue. Behind those wheels are Brembo performance brakes.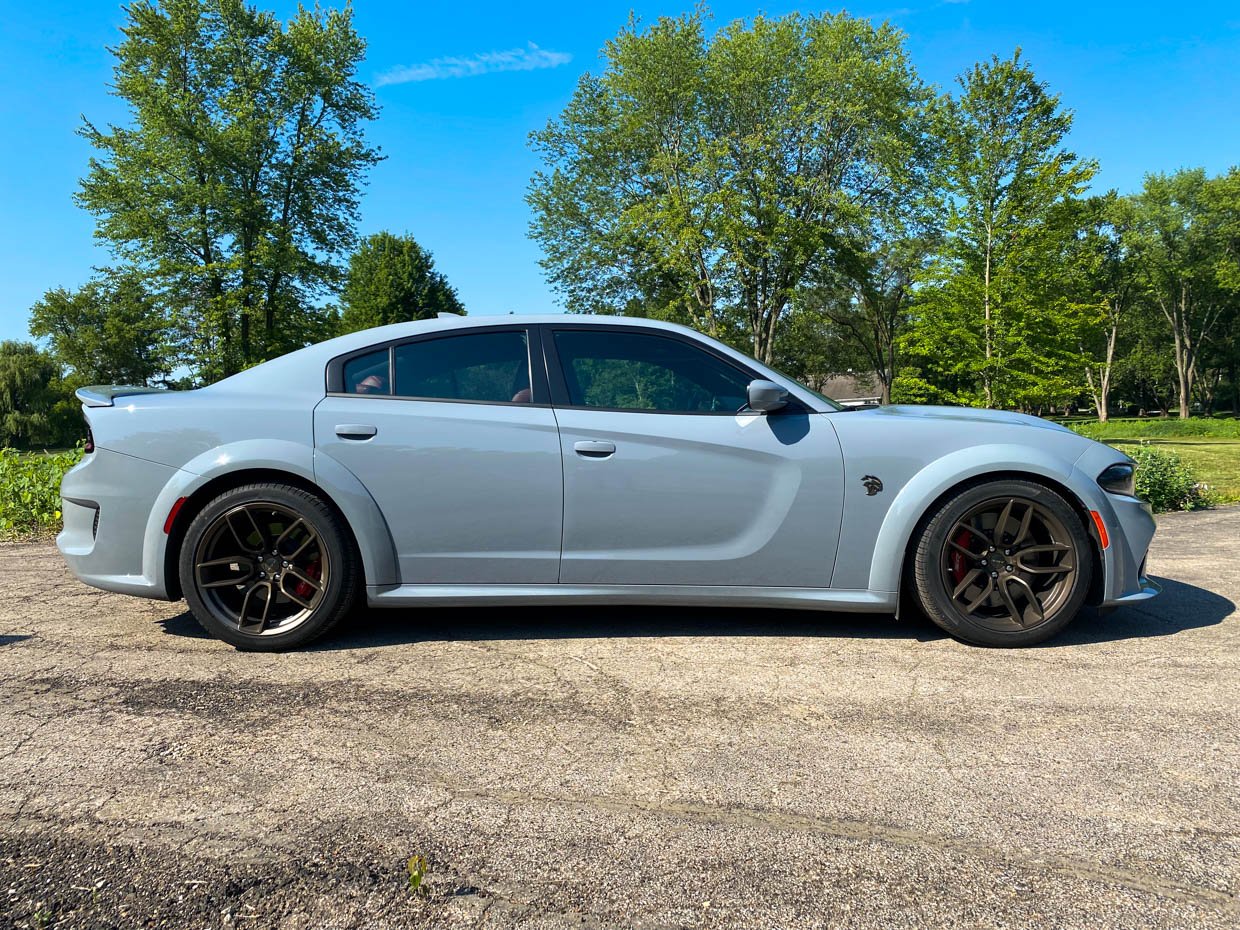 Under the hood is a 6.0-liter supercharged HEMI V8 that produces just three horses shy of 800, along with 707 lb-ft. of torque. It delivers that power to the rear axle via a ZF8HP90 8-speed automatic transmission. With so much grunt, it's one of the few cars that will push you back into your seat when you jam the gas pedal down to the floor. Dodge says it'll do 0 to 60 mph in 3.6 seconds, and while we didn't time our launches, it felt incredibly fast for a 4500-pound family sedan. An intuitive launch control feature makes achieving a speedy departure even easier.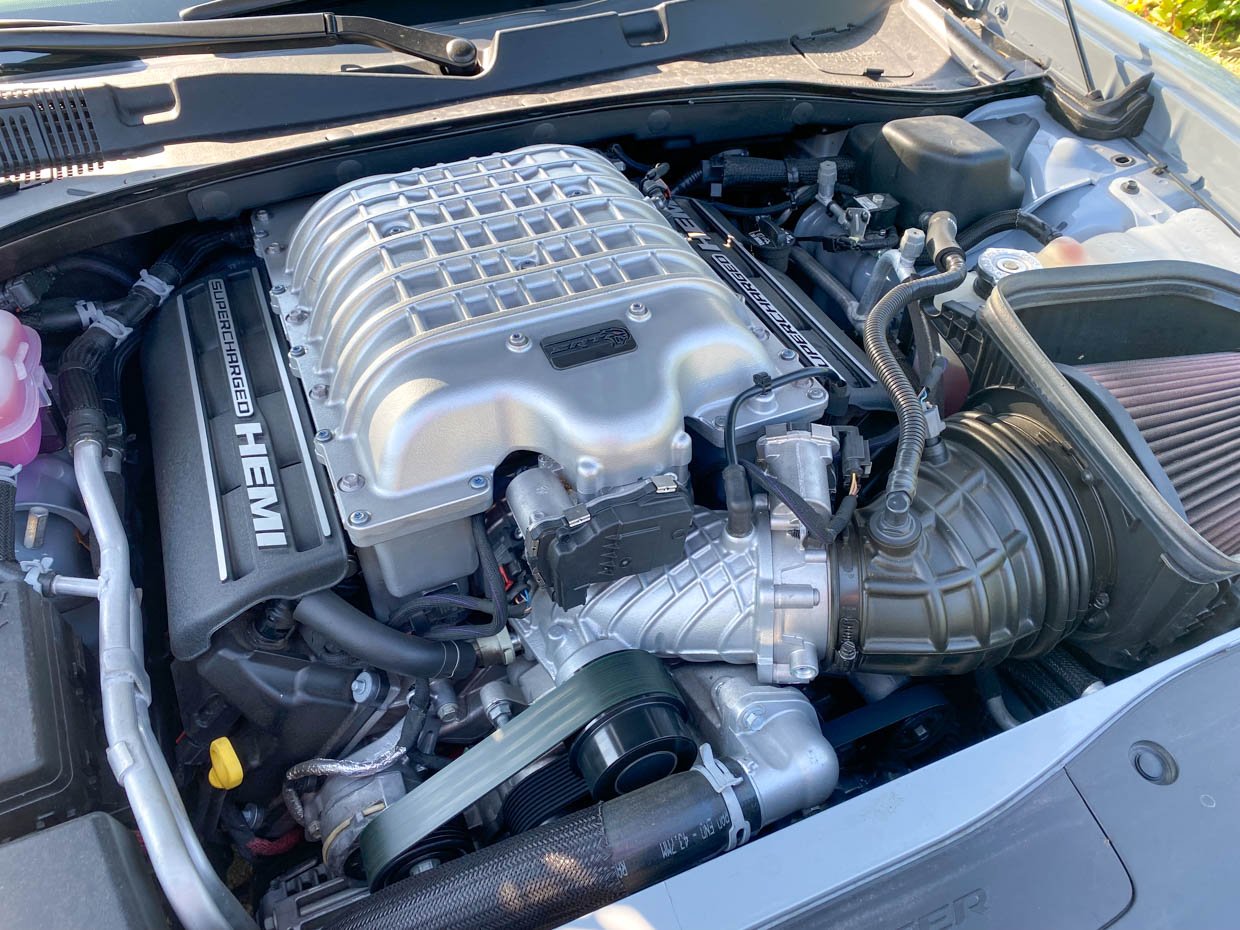 This beast also makes quite the impression in the exhaust department, delivering the kind of deep baritone note that only a big V8 can make. Along with a harmonious supercharger howl, it's an addictive combination of ear candy for gearheads.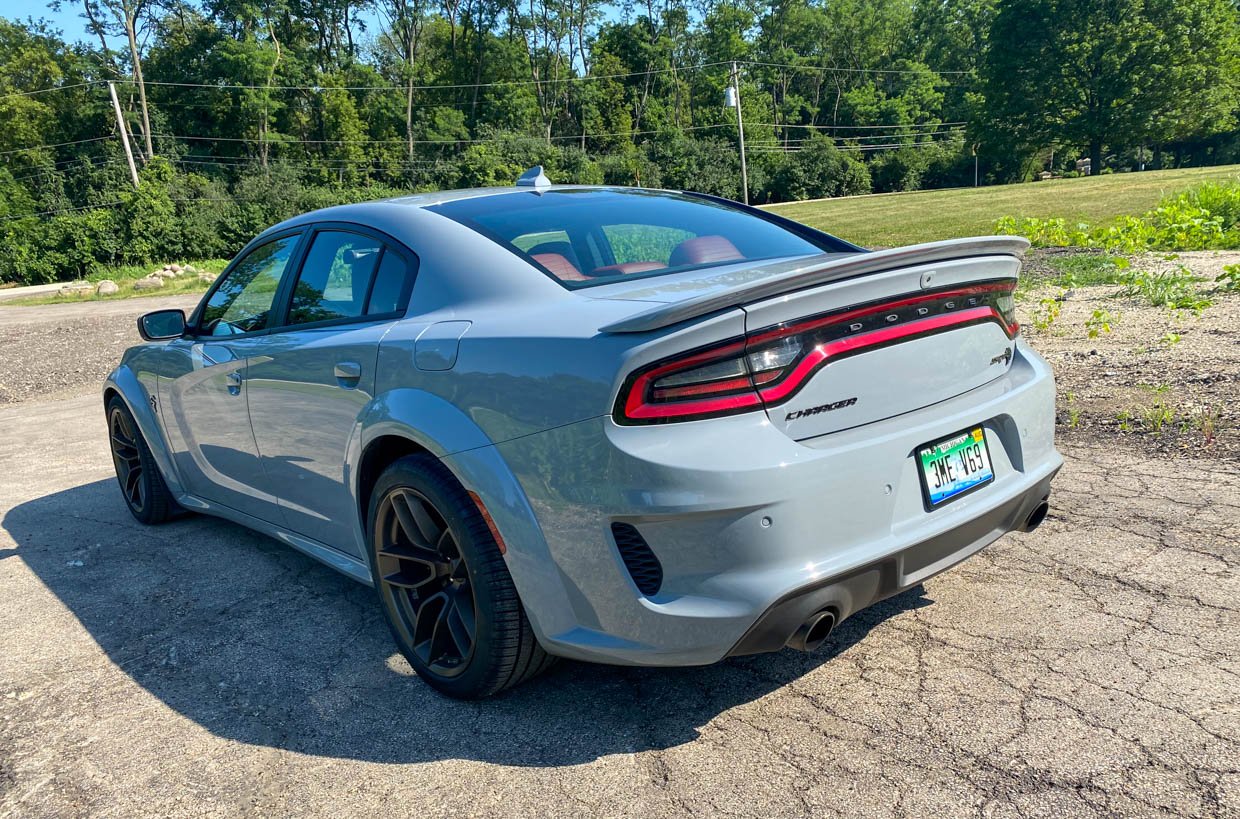 Inside, the Redeye combines the purposeful and robust lines of other recent Dodge cockpits but makes things even more special with the addition of a carbon-suede package that brings real carbon fiber to the dash and center console along with the tactile feel of a suede headliner. The stitching on the dashboard and leather steering wheel, along with aluminum pedals, add to the quality look of the interior.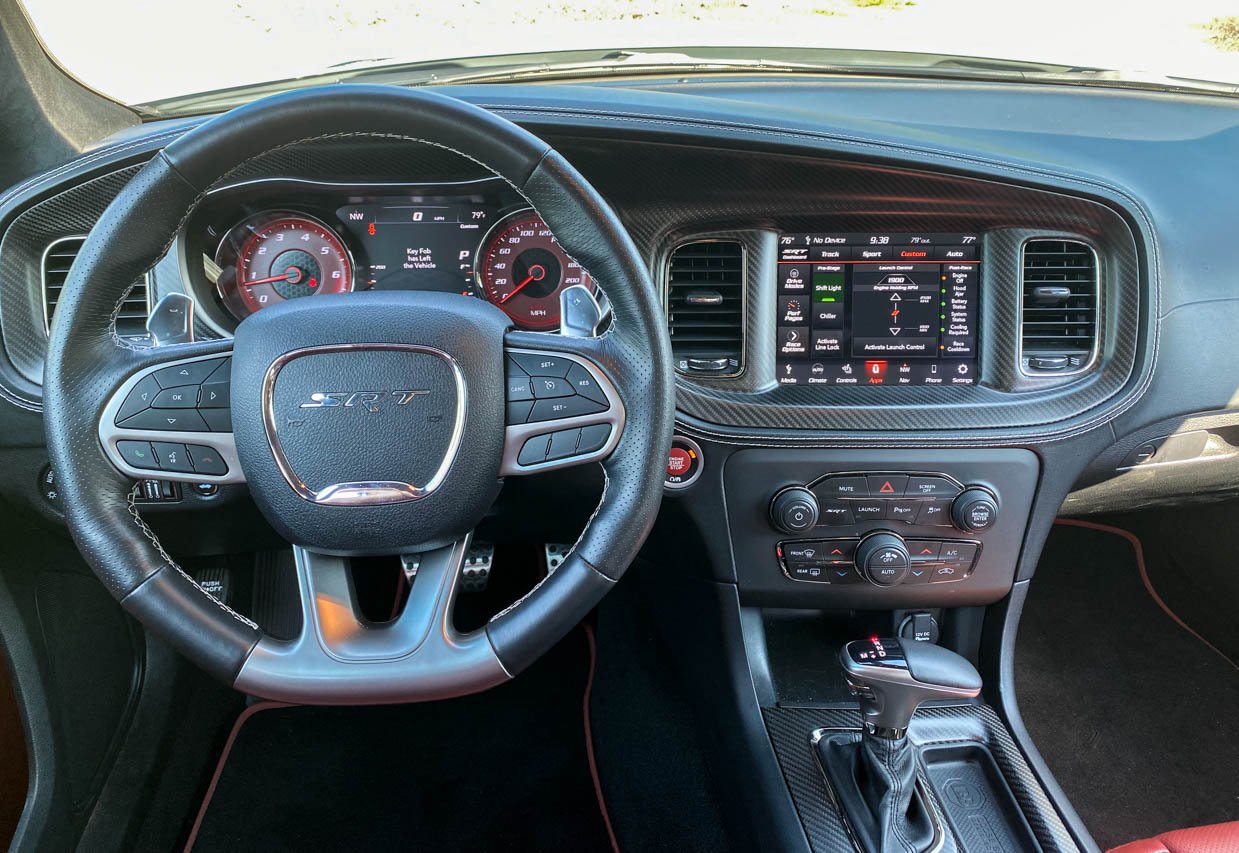 Our car was done up with anything-but-subtle Demonic Red leather seating with wide but comfortable bolstering, embossed SRT Hellcat Redeye logos, and luxury touches like heat and cooling for the front seats. While our car didn't have them, Demonic Red seatbelts are available as an option too. Back seat passengers get to enjoy plenty of legroom and get to keep their butts warm with heat as well.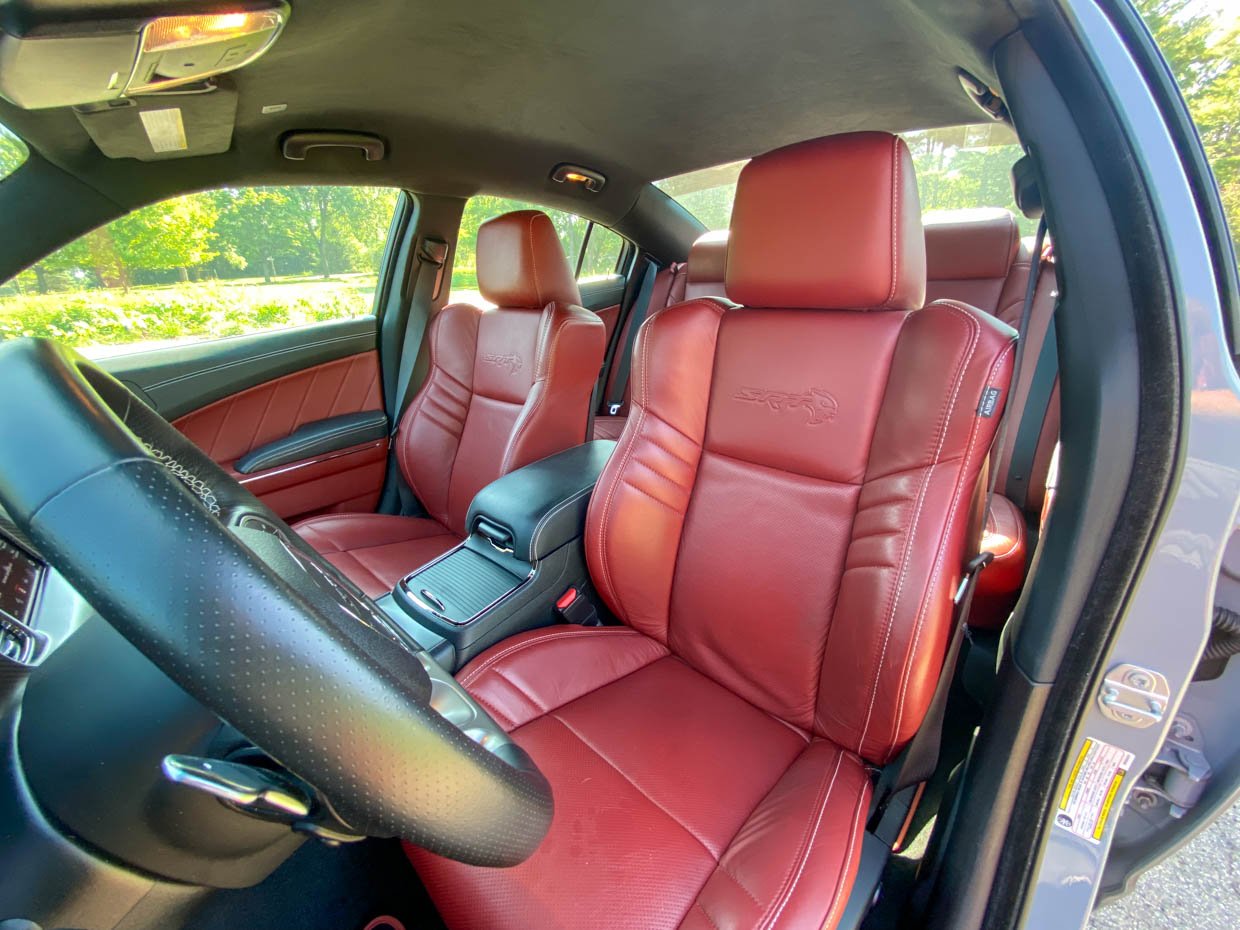 Drivers can customize the handling and performance of the car with a variety of drive mode settings. These offer the ability to limit horsepower, adjust transmission shift programs, increase or decrease traction control intervention, stiffen or soften the adaptive suspension, and tweak steering weight. Sport mode is our favorite for everyday usage, offering just the right balance between high performance and street-friendly handling. Track mode is best reserved for controlled environments.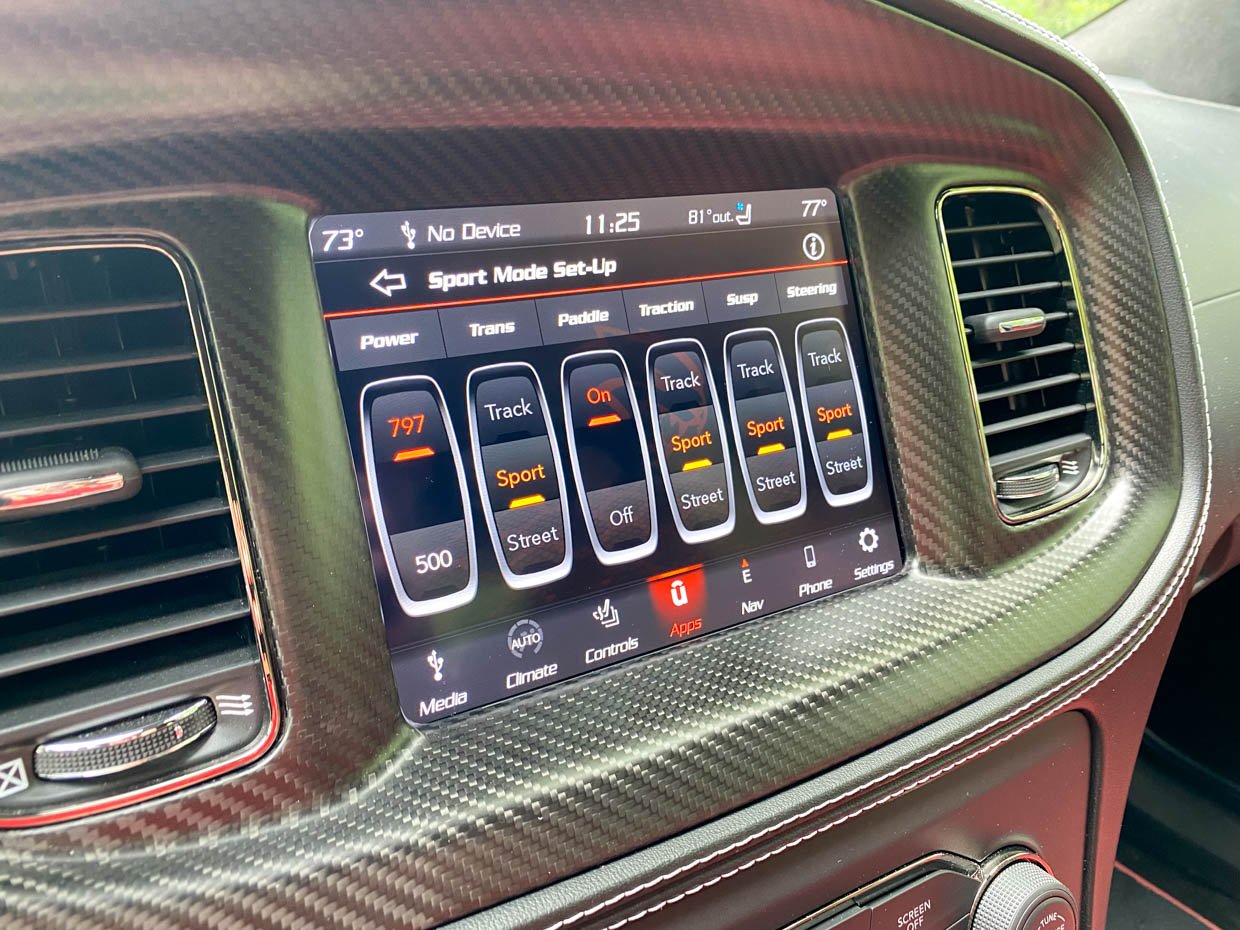 There are lots of other nifty racing and track features on display here, including Performance Pages which can display launch times, horsepower and torque information, G-forces, race cooldown stats, and more. There's also a Line Lock feature that locks the front brakes while you accelerate, so you can warm up the rear tires and do a proper burnout - either just for fun or to get ready for the drag strip.
What we love most about the entire Dodge Charger lineup is that it's one of the only cars out there that embraces its muscle car capabilities while also being friendly to rear-seat passengers and luggage with its massive trunk. The Charger SRT Hellcat Redeye Widebody amps everything up to 11, boosting power to the limit, increasing grip, improving handling, and offering both thrills and comfort to all who sit within its cavernous cabin. With a price starting at $80,950, before a $1495 destination charge and a $2100 gas guzzler tax, it's definitely not for those with small bank balances, but if you've got the money, it's a heck of a thing.