The Big Lebowski
Nobody f*cks with the Jesus doll! Artist Andy Stattmiller painted this awesome set of nesting matryoshka dolls, depicting images of iconic characters from the Coen Brothers' cult hit. Be sure to check out Andy's blog for more.
Jeff Bridges tells Conan a funny story from the making of The Big Lebowski. Jeff brought his wife and then young daughters to the set, only to find out that they'd be shooting the saucy dream sequence. And that's not even the punchline.
Bowling is a flat circle in these spot-on opening credits for The Big Lebowski made in the distinctive style of True Detective's opener. It loses steam at the end, but the main character intros are top notch. Made by Darrin Fullerton.
The dude abides in this new officially-licensed pinball machine. It has a tiny bowling alley, a white russian, and video and audio samples from the movie. Pre-order by 10/19 for a bunch of swag, including a rug to tie the room together.
Never Miss a Post! Get the Latest Awesomer Posts in Your E-mail Box Every Day!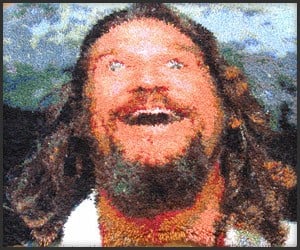 "This one-of-a-kind Big Lebowski rug really ties the room together, man." That's exactly how OldeTymeNotions describes this awesome handmade latch hook rug featuring the The Dude himself, and guaranteed not to have pee on it.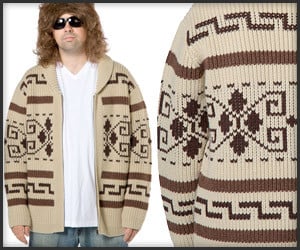 Grab your wig and fix yourself a White Russian before you don this sweater that's a dead ringer for the one worn by Jeff Bridges in The Big Lebowski. We wonder if a rumpled bathrobe would be better.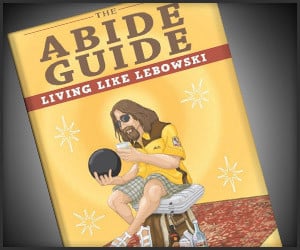 Live like Lebowski, and learn the ways of the Church of the Latter-Day Dude, applying the Dudeist philosophy to politics, ethics, finance, and relaxation. Also answers the question: WWTDD?
The Dude abides… and solves crimes, in this mashup of Lebowski and 1980s cop drama by Connor Kalista. If only The Dude had been wearing a Lei around his neck, it would have been perfect.
The Dude finally abides with the modern times. The Big Lebowski Limited Edition Blu-ray release also comes with a 28-page book containing interviews, set photos and more.
(NSFW) Mashing up the trailer for TRON:Legacy with the audio from The Big Lebowski doesn't sound like something that should work. The Dude heads into the uncanny valley and never gets out.
Use Arrow Keys ← → for Faster Navigation | Keyboard Shortcuts: OnOff