Ricoh
Ricoh's GXR merges optics and sensors into a "lens unit" that can be swapped without dust worries; currently available are 10 MP fast prime and 12.1 MP APS-C lenses, with more planned.
Ricoh's CX2 keeps the CX1's 9.29 MP CMOS, but gets a host of modest tweaks with 10.7x optical zoom, 5 fps burst shooting, face detection and continuous autofocus.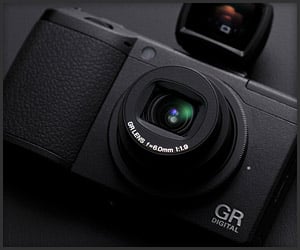 It still has a 10 MP sensor, but Ricoh fans will be salivating over the GR Digital III's new noise-reducing GR Engine III, a 28 mm/F1.9 lens, and a CCD with 2x sensitivity over the old model.
It may have a retro-styled case, but Ricoh's CX1 packs high dynamic range tech, along with 120 fps VGA video recording, a 9MP CMOS sensor, 7.1x optical zoom and a 3″ LCD.
Never Miss a Post! Get the Latest Awesomer Posts in Your E-mail Box Every Day!
Ricoh's latest set of R10 cameras updates their venerable R8 line with 10 megapixels. We actually like the retro 80s aesthetic and colors; it's nostalgic yet still tastefully modern.
Use Arrow Keys ← → for Faster Navigation | Keyboard Shortcuts: OnOff