Ray-ban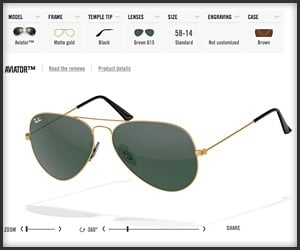 Now you can order custom Ray-Ban sunglasses online. Choose one of seven models and customize the color or material of its frame, lens, case and temple tips. You can also have the case and temple tips engraved.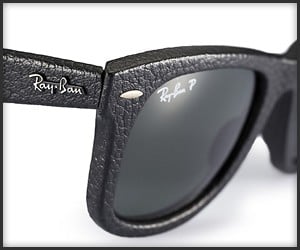 Leather's worming its way back into everything. As the great Jalen Anthony Rose loves to say, you "got to give the people what they want." You can now get the versatile Wayfarer in brown or black calf leather.
Borrowing heavily from one of Brusspup's earlier illusions (and even the music), Never Hide Films created this desk filled with faux 3D objects and messes with our heads in this spot for Ray-Ban. Kudos to Never Hide for the unexpected finish.
Never Miss a Post! Get the Latest Awesomer Posts in Your E-mail Box Every Day!
The classic Clubmaster given a more eye-catching look. The temples and upper lens rims are made of lightweight aluminum with a silver finish, while the rest of the lens rim and the bridge both have a gold finish.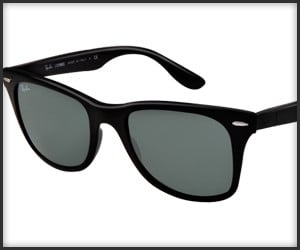 As the company did with its Aviator model, Ray-Ban updates the Wayfarer with a frame made of Liteforce, a thermoplastic resin that is more lightweight, flexible, durable and comfortable than metal frames.
Similar to the Folding Aviator, Ray-Ban's Folding Wayfarer upgrades the classic sunglasses with durable metal alloy hinges to make them easier to store. Available in a variety of designs.
Ray-Ban has finally released a foldable version of its most popular sunglasses. It has 8 hinges allowing it to be folded at the bridge and temples. Available in 5 lens/frame combinations.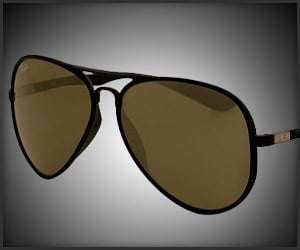 The Liteforce Tech Aviators are Ray-Ban's update on its classic sunglasses. Instead of metal, these ones are made from a thermoplastic bio-material that is very light, durable and comfortable.
The Rare Prints series are limited edition releases of Ray-Bans' classic Wayfarers decked in colorful patterns. The latest Rare Prints feature 80s inspired grid-based graphics by La Boca Design.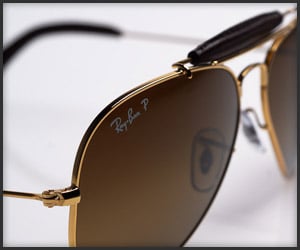 Ray Ban's iconic Aviators get an upscale update with the Craft Outdoorsman; it sports a brow bar wrapped in hand-stitched genuine deer leather with blue or brown teardrop lenses.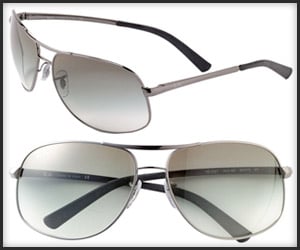 Ray-Ban's Fresh Aviators feature a slightly wrapped shape a modest update that stays true to the original aviator design; a gunmetal frame, rubber-tipped arms round these classics out.
Use Arrow Keys ← → for Faster Navigation | Keyboard Shortcuts: OnOff