Lightning
During an intense thunderstorm in Kansas, photographer Ron Risman pointed his lens at the electrical spectacle, and captured a 180-second sequence of lightning that's as impressive as any fireworks show. The addition of dramatic music serves to heighten the thrill.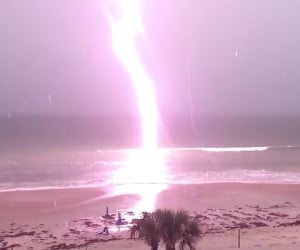 YouTuber Clint Blevins managed to take an up close and slow-motion shot of a lightning bolt hitting the ocean along a beach. The brunt of the strike looks like a rip in space and time. Skip to 0:10; press 5 to repeat.
Photographer Marc Szeglat was recording footage of the Japanese volcano Sakurajima when he captured a rare and unusual static electricity phenomenon – volcanic lightning, otherwise known as a dirty thunderstorm.
We're not quite sure of the science behind lightning that fires upward to the sky, but we can tell you we've never seen it before this video, captured several years ago by Tom A. Warner over Rapid City, South Dakota.
Never Miss a Post! Get the Latest Awesomer Posts in Your E-mail Box Every Day!
An SUV is driving along, when a bolt of lightning crashes down from the sky directly onto the vehicle. It's an incredible display of nature's fury. Fortunately nobody was injured. (Thanks Kruger!)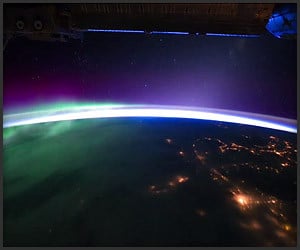 We've been pretty impressed by the previous footage shot from the International Space Station orbiting the Earth, but this 5 minute edit by Michael König is truly the pièce de résistance.
During the this week's really nasty weather, photographer Craig Shimala captured this amazing video of lightning simultaneously striking the three tallest buildings in downtown Chicago.
Use Arrow Keys ← → for Faster Navigation | Keyboard Shortcuts: OnOff