Comic Books
Nerdwriter1 talks about how Neil Gaiman's The Sandman used Shakespeare to point out artists' tendency to have a detached and sociopathic approach to life, and how popular art tends to obscure its sources instead of bringing them to light.
The unnamed narrator and Tyler Durden are coming back. Chuck Palahniuk and Cameron Stewart's 10-issue comic book miniseries is set 10 years after the novel. Read the first issue's first six pages on Playboy (NSFW).
Freelance illustrator and diehard Deadpool fan Marco D'Alfonso loves to mashup comic book characters and covers with pop culture, often as submissions to Comic Book Resources' contests. We'd share all of his art here if we could.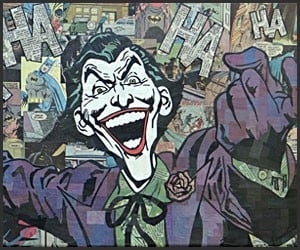 Mike Alcantara makes amazing collages by recycling pages from old comic books. He has something for DC and Marvel fans alike. Original pieces and prints are available for purchase on his Etsy shop.
Never Miss a Post! Get the Latest Awesomer Posts in Your E-mail Box Every Day!
(NSFW) In case you didn't get your fill of him in Marvel Vs. Capcom 3, Activision and High Noon Studios are giving Deadpool his own title. It drops Aug. 21st. Enjoy a chimichanga in the meantime.
Use Arrow Keys ← → for Faster Navigation | Keyboard Shortcuts: OnOff