Cans
Companies love to suggest ridiculous serving sizes, and now Coca-Cola has figured out a way to truly get two servings out of a single can, with these custom-fabricated cans which can be split in two and shared.
Japanese artist Makoan creates intricate sculptures of pop culture icons and other objects by recycling beer and soda cans. He even color-matches his subjects by using a variety of drink brands.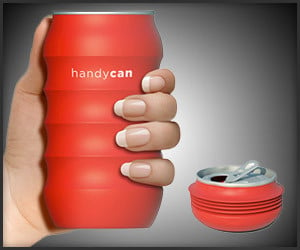 Combining our urge to crush cans with our bare (not bear) hands with smart industrial design, Emami Designs' Handycan fits human (and bear) hands perfectly, and crushes like an accordion.
Etsy user HandySam will handcraft you a wall mounted bottle opener with a finished oak plank and even equip it with your choice of vintage "cap catcher," with plenty of options available.
Use Arrow Keys ← → for Faster Navigation | Keyboard Shortcuts: OnOff