Ariel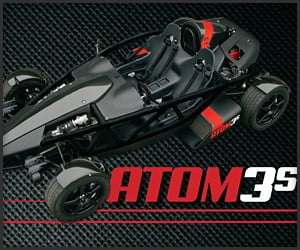 The new Atom 3S has a turbocharged 2.4L Honda engine gets up to 365hp, allowing it to go from 0 to 60mph in just 2.8s. Adjustable 5-stage traction control and dampers will help keep you from flying off the face of the Earth.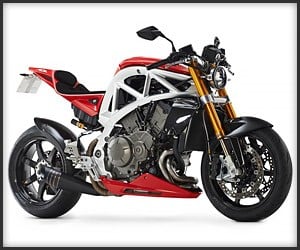 Ariel is known for its Atom track day car. But Ariel's namesake made motorcycles. Now, the new Ariel is making bespoke bikes with a 1237cc Honda engine, capable of going 0-to-60 in 3.4secs, with a 165mph top speed.
At just 1,212lb., the Ariel Atom 3.5R is terrifyingly light, what with its supercharged 2L Honda Type-R engine now producing up to 350hp and 253lb.ft. of torque. It goes from 0 to 60mph in just 2.5s and will reach 100mph in 6s.
This crazy-fast ride still has the 2.0L 245 hp engine found in the Atom 3 but there's now a supercharged variant with 310hp. It has projector headlamps, LED signals, a stiffer chassis and improved suspension.
Never Miss a Post! Get the Latest Awesomer Posts in Your E-mail Box Every Day!
To celebrate the Atom's 10th anniversary, Ariel teamed up with Mugen to create the Atom Mugen. The super-lightweight car has a 270hp Honda K20Z Type R engine, allowing it to go from 0-60 in 2.9s.
Now available: the Ariel Atom 3's steel tube chassis exposes you to the elements, but it won't take much time getting from A to B: it boasts a 0-60 of 2.9s and weighs just 1,375 lbs.
As if their cars weren't fast enough, Ariel's Atom 500 sports a 3.0L V8 that churns out 500bhp and weighs about 90kg; this and a host of other tweaks brings it to 0-60mph in under 2.5s.
Use Arrow Keys ← → for Faster Navigation | Keyboard Shortcuts: OnOff